Play At The 2011 World Series Of Poker With $14,000 Prize Package At Party Poker.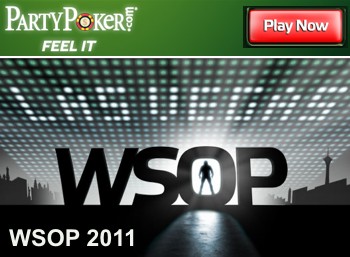 Every poker player dreams of playing at the World Series of Poker (WSOP) and winning the biggest prize in the game. Well, this year you can make fantasy become a reality by guaranteeing your place at the 2011 WSOP for free! Party Poker room started tournaments (running till 19th June, 2011) to win your way to the WSOP.
Qualifiers are running now until 19th June so that means loads of opportunities to win your $14,000 WSOP package. Each month, new players can enter an exclusive freeroll to win one of 10 seats, each worth $750, in the WSOP weekly satellite.
Each $14,000 package includes:
$10,000 WSOP main event buy-in,
$2,000 spending money
Eight nights' hotel accommodation on the Las Vegas strip
The world-renowned hospitality
Poker hall of fame legend Mike Sexton looks forward to the WSOP every year. He told us: "I made my first trip to the WSOP in 1984. That trip changed my life forever. I knew right then that as long as I lived, I would never miss another WSOP."

Party Poker's comprehensive range of WSOP qualifiers has been created to give you the best chance to get to this ultimate poker extravaganza. If you start with the irresistible daily freerolls, you could find yourself sitting down in Las Vegas for free.

There are even special qualifiers exclusively for first depositors. Each month, new online poker players can enter an exclusive freeroll to win one of 10 seats, each worth $750, in the WSOP weekly satellite. Check out Party Poker's full WSOP qualifying structure page and plan your route.

Make this the year your poker dream becomes real and win your way to Las Vegas for an unforgettable experience at 2011 WSOP.

Terms and Conditions
This promotion runs from 00:00 ET on 14th February, 2011, until 23:59 ET on 19th June, 2011 The main event at WSOP 2011 will run from 7th to 19th July, 2011, with the final table to be played in early November, 2011, and be held in Las Vegas, USA Players must be at least 21 years of age in order to be able to play at the WSOP Prize packages are non transferable and no cash alternative is available.

The new player freerolls will take place on the following dates and are open to Party Poker players who open an account in the relevant period.
Open account from March 26th at 14:05ET - April 30th at 14:00ET. Freeroll on May 1st at 15:20ET
Open account from April 30th at 14:05 - May 28th at 14:00ET. Freeroll on May 29th at 15:20ET

WSOP Freeroll
Daily at 13:20ET & 19:20ET The top 25 players will gain entry to the next $2 WSOP Sub Qualifier Speed Rebuy.

\/

(1) WSOP Sub Qualifier Speed Rebuy, (2) WSOP Sub Qualifier Speed Rebuy & (3) WSOP Sub Qualifier Speed
$2, $4 & $9 Daily tournaments. (1) For every $80 in the prize pool an entry to the next WSOP Satellite Qualifier is awarded. (2) For every $80 in the prize pool an entry to the next WSOP Satellite Qualifier is awarded. (3) 1 in 10 players will gain entry to the next WSOP Satellite Qualifier.

\/

(1) WSOP Satellite Qualifier & (2) WSOP First Depositors Freeroll
(1) $75 + $5 Daily WSOP Satellite Qualifier at 15:10ET & 20:40ET Sundays (Turbo) at 12:10ET. 1 in 10 players will gain entry to the next WSOP Satellite.
(2) WSOP First Depositors Freeroll took place on 26th February, 26th March, 30th April & 28th May at 14:00ET. The top 10 players will gain entry to the next WSOP Satellite.

\/

$700 + $50 WSOP Satellite
Sundays at 15:20 ET. 1 in 20 players will win a $14,000 WSOP 2011 Package.

$500 Welcome Bonus
See Party Poker promotions (news) section for more details. Visit Party Poker today and play for your share of cash and WSOP packages. New players can claim exclusive, 100% match signup bonus up to $500 free if they follow the link to the poker room on this page. Download free poker software from Party Poker website now.

"World Series of Poker"(R) and "WSOP"(R) are registered trademarks of Harrah's License Company LLC. No license, affiliation, sponsorship or endorsement is claimed, or should be inferred from the use of these trademarks here. PartyGaming (or CPR) is not licensed by or otherwise affiliated with Harrah's License Company LLC or the World Series of Poker® in any way.


Related Poker Articles:
1. Play For $7,000 WPT Vienna Package In Daily Satellites And Win..

(19/02/2011)


2. Play In The Weekly Super Satellite Tournaments At Titan Poker..

(20/11/2010)


3. Qualifying Satellites For ECPokerTour Vienna Start At Titan..

(03/07/2010)


4. Online Poker Players Can Compete For Millions At The 2010 WSOP..

(21/06/2010)


5. 2010 WSOP Packages, $150K Extreme Points Race And Prime Time..

(05/05/2010)


6. Win Your Share Of EUR500,000 Guaranteed This March In Barcelona..

(27/12/2009)


All Party Poker Room's News