Phil Hellmuth to Headline UltimateBet's 50-Seat Aruba Satellite with $1,000 Target on His Head On Aug 1 2007.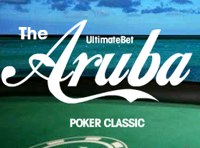 If guaranteeing $425,000 worth of Aruba Poker Classic tournament prize packages isn't enough of an attraction, UltimateBet announced that 11-time WSOP gold bracelet winner Phil Hellmuth will be playing in Sunday, August 5th's 50-seat Aruba Satellite tournament.

This $500+$30 online tournament guarantees to pay out at least 50 Aruba prize packages worth $8,500 each. Each package includes a $5,000+$500 buy-in to the 2007 Aruba Poker Classic and an additional $3,000 for travel expences and accommodations.

What's more, the player who manages to bust Hellmuth in August 5th's tournament at Ultimate Bet poker room will win $1,000 bounty.

With 12 satellites running daily, Texas Hold'em poker players can win their way to Sunday's 50-Seat Aruba Satellite for as little as $15. Enter an Aruba qualifier right now to win your $8,500 Aruba seat.

The 2007 Aruba Poker Classic is happening in Aruba from September 29th to October 6th. The weeklong tournament gives online poker players the chance to celebrate their successes at the tables with best poker professionals and compete for a piece of an estimated $2.5 million in prize money. In 2006 Aruba Classic tourney, Devon Miller captured the title, taking home $774,960 in cash as the first prize winner.

Matt Savage, a world-renowned tournament director, is on board to oversee Ultimate Bet's signature weeklong tournament. For more information on the 2007 UltimateBet Aruba Poker Classic, visit Ultimate Bet's website.

The UltimateBet Aruba Classic is the hottest poker event of 2007
This September 29th through October 6th is the 6th anniversary of the UltimateBet Aruba Poker Classic. Ultimate Bet celebrates the event by offering even bigger prize packages and more ways to enter the tournament. 2007 will be the biggest year ever, with an estimated prize pool of at least $2,500,000!

Satellite your way towards poker superstardom in Aruba, for as little as $10, every day With affordable and frequent sub-satellite tourneys. Qualifying couldn't be easier - the Satellite schedule is shown below - pick the event that will send you to Aruba's beach!

All times are ET (site time)
00:45 $50 buy-in, 2 seats guaranteed
13:40 $10 buy-in Turbo Rebuy, 3 seats guaranteed
15:20 $15 buy-in Turbo Rebuy
20:20 $15 buy-in Turbo Rebuy
21:20 $10 buy-in with Rebuys
22:30 $50 5 seats guaranteed (Friday, Saturday & Sunday only)
23:40 $10 buy-in Turbo Rebuy

Hit A Hot Streak And You Could FREEROLL Your Way To Aruba!
Just play in one of UltimateBet's six free daily Aruba freerolls. The winner of each of UB's daily freerolls gets a seat in the Weekly Freeroll Semi-Final. Win the semi-final and you're headed to Ultimate Bet's Final Freeroll on August 26th at 8pm ET. Win the final freeroll at the end of the month and you're on your way to Aruba absolutely free!

Enter a FREE Aruba qualifier right now for your chance to win an $8,500 Aruba Poker Classic's prize package consisting of one $5,500 entry and $3,000 for travel and other expenses. See you at the tables... and in Aruba! UltimateBet offers daily freeroll and multiple satellite tournaments throughout the week. See the satellite list below: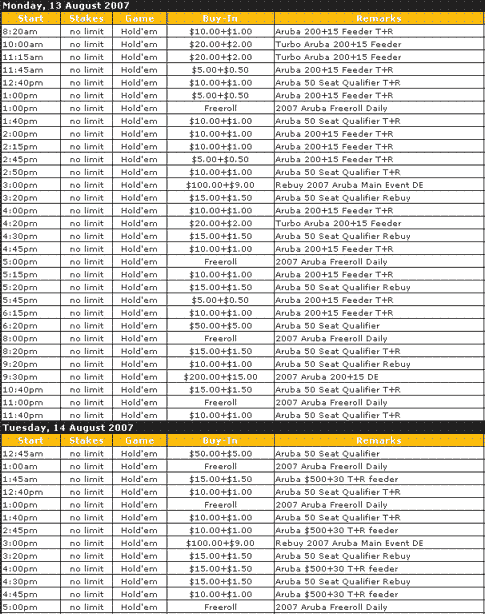 For the schedule for other day check out UltimateBet Aruba's promotion page.


Related Poker Articles:
1. Phil Hellmuth Hurt In Racecar Crash In Las Vegas. 2007 WSOP..

(10/07/2007)


2. Phil Hellmuth, Jr. Makes History at 2007 World Series of Poker..

(13/06/2007)


3. Event 34: No-Limit Hold'em With Rebuys. Phil Hellmuth, Jr...

(29/07/2006)


4. Play In UB Aruba Satellites To Win Your Seat To The UltimateBet..

(12/07/2007)


5. $25,000 Bounty Nightly Poker Tournament At Ultimate Bet With..

(29/06/2007)


6. Absolute Poker And UltimateBet Reports - US Business Still..

(15/04/2007)


All Ultimate Bet Room's News