New Crazy Poker Website And Welcome Bonuses For New Players.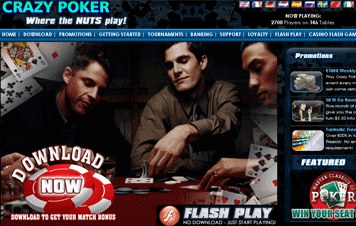 After 8 years in the industry, Vegas Partner Lounge has decided to combine 3 of its poker brands into one, massive poker-room megabrand: CRAZY POKER! To celebrate the occasion the company have launched a new CRAZY POKER website with a Crazy new Bonuses!
Crazy Poker will be turning heads with the brand new signup offer and will definitely make you some serious dough! Players will now have a choice of the two topnotch bonus offers that not even the big poker rooms can match:
Option 1: THE ALL NEW INSTANT MATCH BONUS
50% upfront Match Bonus, up to $25 free
Players will be instantly matched with up to $25 free from Crazy Poker. Players must play 10x the bonus in raked hands. E.g. Player deposits $50 and receives $25 upfront. Player must rake 250 hands at 10c/20c tables and higher.
Option 2: The famous Highroller bonus is still here!
100% Match Bonus up to $1,000 free
Players have 21 days to accumulate their initial deposits up to $1,000. This deposit match bonus is cleared at 3:1. This means that for every $30 raked the player will receive $10.
These are really excellent online poker bonuses - you honestly can't deny that. The most popular poker sites are currently clearing their match bonuses at 6:1 and higher, so not only will Crazy Poker players find they can actually clear the welcome bonuses, but as soon as they do, they are automatically moved on to rake back!
Other Promotions
Daily Freerolls (over 20k per month)
Daily Loyalty ($100 per day - free to enter)
Satellite Tourneys to all the major poker events around the world.
Plus a host of other promotions...
The new Crazy Poker website is very effective and user friendly with the focus being on simplicity and easy access to information.
As a long-time poker player myself, I honestly believe that poker fans are missing out by not playing at Crazy Poker. When I play on other sites it always takes forever to clear the match bonuses, and I can never find a decent rake back deal without first jumping through hoops. When I play in a tournament I like to play against 3 or 4 hundred players, and not 3 or 4 thousand.

"With us being smaller than the Poker Stars and Full Tilts of this world, we can look after our players, offer them better service and the players themselves have a better chance of making money. Poker has a new name and it's Crazy!" added Andrew Smith, Poker Manager at Vegas Partner Lounge.

Crazy Poker is part of the Microgaming/Prima Poker Network with up to 4,000 ring game players at peak hours. The poker room accepts players from USA excluding 11 States.


Related Poker Articles:
1. Shark Free Online Poker Environment At New Poker Room - Cool..

(18/10/2008)


2. Poker News: Titan Poker Now Available In Finnish And Danish

(03/03/2007)


3. Player Protection And Standards Body, eCOGRA, Accredits 4 More..

(29/09/2006)


4. River Belle Online Poker - Another Popular Brand Of Belle Rock..

(08/07/2006)


5. Poker Ocean Card Room - New Wave In Online Poker

(06/06/2006)