$10 Million Main Event Mania Returns To Full Tilt Poker With $10M Champion's Bonus.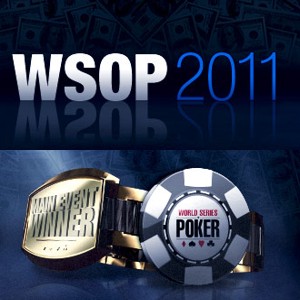 Full Tilt Poker room has launched a wide range of online qualifier tournaments offering $12,000 prize packages to the 2011 World Series of Poker (WSOP*) Main Event - including eligibility for the $10 Million Main Event Mania bonus.
Winners of Full Tilt Poker's $12K Main Event Prize Packages receive more than just their buy-in to the most prestigious event in poker. They also receive $2,000 in spending money and gain access to the exclusive Pro's Choice suite, where they'll get the opportunity to meet members of Team Full Tilt and other Poker pros.
In addition, any player who wins their 2011 Main Event seat online at Full Tilt Poker is eligible for the following benefits:
A massive $10 Million Main Event Mania bonus if they go on to win the WSOP's Main Event.
A free seat at the 2012 WSOP* Main Event if they finish in the money at this year's Main Event.
5 days free accommodation at the Rio All-Suite Hotel & Casino in Las Vegas during the Main Event.
Win a $10 Million Bonus at Full Tilt Poker
There are 10 million reasons to win your 2011 World Series of Poker* Main Event seat playing online at Full Tilt Poker with $10 Million Main Event Mania. If you earn your Main Event seat online at Full Tilt Poker and go on to win, the popular online poker room will give you a $10,000,000 bonus on top of your first-place prize money!

In addition to the $10 million bonus, if you finish in the money at this year's Main Event, you'll be given a free seat to the 2012 Main Event on WSOP. Win multiple seats to this year's Main Event and you'll also receive entry to the exclusive Multi-Entry $35K WSOP Seat Challenge Freeroll Tournament for each seat that you win.

Players at Full Tilt Poker can chose from a diverse range of WSOP* Qualifier Tournaments running now through June 27th. Options include 'The $1 Main Event Seat', up to '$1K Thursday Direct Qualifiers'. You can also take part in the popular 'Steps to the Main Event', which starts at just $3.30.

This year's WSOP* Main Event kicks off on July 7th in Las Vegas, and Prize Package winners will strive for a repeat of last year's success, when seven of the nine players at the Main Event final table were sponsored by Full Tilt Poker. With the richest bonus in poker and a free seat at next year's Series, no other site offers you this much value for your Main Event seat.

About Full Tilt Poker
Full Tilt Poker is the host of a worldwide virtual poker cardroom service. It is not in the business of betting or wagering and does not participate in the games as a player. It merely provides a service to those who wish to test their skills against others for fun, prizes or money. It's duly regulated and licensed by the Alderney Gambling Control Commission. With innovative graphics, superior customer service and a safe, secure interface, the online poker software is geared to enhance and personalize the online gaming experience. Although virtual poker is legal where the games are hosted and played, it may not be legal where individual players are located. Players at all skill levels may download the software at Full Tilt Poker but it is their responsibility to determine if participating in the games is permitted under your local laws.

* World Series of Poker and WSOP are trademarks of Harrah's License Company, LLC ("Harrahs"). Harrah's does not sponsor or endorse, and is not associated or affiliated with Full Tilt Poker or its products, services, promotions or tournaments.


Related Poker Articles:
1. Play At The 2011 World Series Of Poker With $14,000 Prize..

(21/03/2011)


2. Multi-Entry Tournaments: $1.5M Guarantee Runs On Sunday Plus..

(06/03/2011)


3. Play $50 + $9 Sit 'N' Go Tournaments At Titan Poker To Win Over..

(24/12/2010)


4. All-In Winter Promotions Offer Over $220,000 In Cash Prizes To..

(20/12/2010)


5. The Five Star Poker Challenge - Win Up To $500,000 Plus Aussie..

(15/12/2010)


6. Shine, The Reloader, Upcoming Promotions And $1,000 New..

(07/09/2010)


All Full Tilt Poker Room's News