WPT's Borgata Poker Open Tournament - Official Results.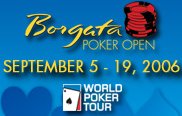 About a half of the Borgata Poker Open 2006 (September 5 - 19, 2006) events have finished and you can see the winners of this popular poker tournament in Atlantic City. 5-day WPT Championship No Limit Hold'em Event (main event) will be held on Friday Sept. 15 - Tuesday Sept. 19, 2006 @ 11AM. The buy-in is $9,700 + $300 Entry.

By now we have official results of the first 5 events of Borgata Poker Open 2006.



Event #1: No Limit Hold'Em, Tuesday, September 5 at 11am, $500 buy-in + $60 entry.

PLACE NAME FROM WINNINGS
1 Alberto Orellana Tampa, FL $115,334
2 Mohamed Elkerdawy Brigantine, NJ $72,310
3 Philip Sparta, Jr. Fairfax, VA $43,903
4 Osama Ghoubrial, Middle Village, NY $38,738
5 Michael Jasman Kendall Park, NJ $33,573
6 Scott Clemmensen Florham Park, NJ $28,408
7 Robert Newton III High Point, NC $23,243
8 Bernard Hand New York, NY $18,078
9 Michael Cardo Monticello, NY $12,913
10 John Yiovanakos Norwalk, CT $6,198



Event #2: No Limit Hold'Em, Wednesday, September 6 at 11am, $750 buy-in + $60 entry. Final Results:

PLACE NAME FROM WINNINGS
1 Fritz Stoner Lancaster, PA $112,448
2 William Hill Silver Spring, MD $59,442
3 John Renzi Boothwyn, PA $31,020
4 Matthew Stout Clifton, NJ $27,143
5 Matthew Berkey Leechburg, PA $23,265
6 Robert Saltiel New York, NY $19,388
7 Michael Lustig Atlantic City, NJ $15,510
8 Tom Thomas Floral Park, NY $11,633
9 Patrick Pendergrast Cambridge, MA $7,755
10 Daniel Mulhall Little Neck, NY $5,041



Event #3: Limit Hold'Em, Thursday, September 7, 2006 at 11am, $500 buy-in + $60 entry. Official Results:

PLACE NAME FROM WINNINGS
1 Arthur Bressler Manalapan, NJ $45,105
2 Paul McCaffrey Boston, MA $25,462
3 Karlo Lopez Abril San Juan, PR $13,823
4 Nicholas Feoli Richboro,PA $10,185
5 Spyridon Mitrokostas W. Yarmoth, MA $8,730
6 Ricky Tang Markham, CA $7,275
7 Nicholas Goedert Silver Spring, MD $5,820
8 Alan Ehrenworth Hamlton, NJ $4,365
9 Joshua Weizer Philadelphia, PA $2,910
10 Joe Schultz Hamilton, NJ $1,891



Event #4: No Limit Hold'Em, Friday, September 8, 2006 at 11am, $1,000 buy-in + $80 entry. Final Results:

PLACE NAME FROM WINNINGS
1 Emmanuel Syragakis Kirkland Quebec, CAN $167,040
2 Jason Comis Wesley Chapel, FL $88,301
3 Marcel Bedard Quebec, CAN $46,080
4 Robert Saltiel New York, NY $40,320
5 Micahel Shklover Stamford, CT $34,560
6 Robert Perry Highland Beach, FL $28,800
7 Eric Siegel Bellmore, NY $23,040
8 Matthew Glantz Lafayette Hill, PA $17,280
9 Andreas Walnum Bobo, Norway $11,520
10 Frank Carbone Westhepstead, NY $7,488



Event #5: No Limit Hold'Em, Saturday, September 9, 2006 at 11am, $1,500 buy-in + $100 entry. Results:

PLACE NAME FROM WINNINGS
1 Jeremy Shor New York, NY $187,616
2 James English Tamarac, FL $98,812
3 Shannon Shorr Tuskalosa, AL $51,000
4 Alexander Cameron Woodside, NY $44,625
5 Stephen Feraca Plainview, NY $38,250
6 Jared Lissauer Greenwich, CT $31,875
7 Marc Geissel Hightstown, NJ $25,500
8 Kirk Acevedo Los Angeles, CA $19,125
9 Mazin Radwan Paramus, NJ $12,750
10 Joseph Lee Yonkers, NY $8,288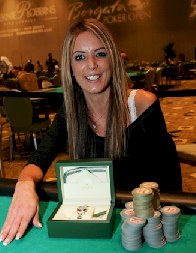 Event #6: Ladies No Limit Hold'Em, Sunday, September 10, 2006 at 11am, $260 buy-in + $40 entry.
Jessica Desantis of Long Island wins Ladies event and $23,000 first prize. Top three players at the final table were: Jessica Desantis, Amy Atkins and Janet Burak (who was a chip leader at a time).

Source: Borgata Hotel Casino & SPA (www.theborgata.com)


Related Poker Articles:
1. Cadillac Escalade Awarded In Addition To Prize Pool At Borgata..

(26/01/2006)


2. North Carolina Man Cleans Up At Borgata Winter Poker Open

(24/01/2006)


3. Poker Perfection At Borgata Winter Poker Open Event Two

(23/01/2006)


4. New York City Man Takes Borgata Winter Poker Open Tournament By..

(21/01/2006)


5. World Poker Tour Adds 17th Event For Season IV With Second..

(04/11/2005)