$4M UBOC Online Chanpionship - Single Event Satellite Contest At Absolute Poker.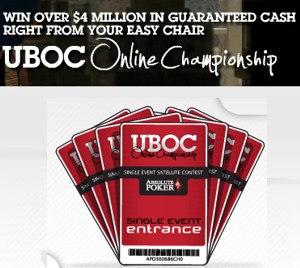 UBOC Online Championship
The next multimillion-dollar poker spectacular happens online at Absolute Poker - 4th annual UBOC Online Championship - win over $4 million in cash!
Experience 18 explosive events packed into 12 dynamite days, including a $1 Million Guaranteed ($1,000+50) Championship Event AND an additional $1 Million in our $2500-100 UBOC 8 - No Limit Holdem, 6-max Deepstack event. With an all-star cast of poker pros, more ways to win, and Sniper, Deepstack, No Limit, Pot Limit, Hold'em, Omaha, and Turbo tourneys to choose from, you can't afford to miss this eruption of pure poker pleasure.
UBOC Single Event Satellite Contest At Absolute Poker
Try to win as many tournament entries as you can for a single event to earn thousands of Tournament Dollars at Absolute Poker.
When you win your first entry into any of the UBOC events, you'll be automatically registered for the event. If you win any additional satellites to the same event, Absolute Poker will credit your account with Tournament Dollars equal to the value of the tournament entry. For example, if you win 5 satellites into the $1000 + $50 2010 UBOC Online Championship Main Event, Absolute Poker will give you a tournament entry and $4,200 in Tournament Dollars.
If you win more entries that anyone else, the room will reward you with a Tournament Dollar bonus equal to 2 more buy-ins! Finish in second place in any of the 2010 UBOC Single Event Satellite Contests and you'll receive a Tournament Dollar bonus equal to one more tournament buy-in.
As an added bonus, Absolute Poker will award Tournament Dollars to the top 6 finishers in the Deep Stack NLH 6-max UBOC event ($2500+100). First and second place will earn Tournament Dollars (T$) as indicated above. Third place wins T$1050, fourth place wins T$530, fifth wins T$320, and sixth wins T$215.
Follow your progress in the Single Event Satellite Contest on Absolute Poker's leaderboards.
UBOC Single Satellite Contest Terms and Conditions:
All prizes are paid in tournament dollars (T$) with no exceptions.
If 2 players tie for first, the players will split the combined 1st and 2nd place prizes. For example, in the single satellite contest for the $1,050 UBOC event, the prize is T$2,100 for 1st and T$1,050 for 2nd. If the top 2 players tie, they will each get T$1,575, which is the sum of the two prizes divided by two.
Prizes will be awarded within 10 business days of the final UBOC Championship event.
150% First Time Deposit Bonus - Limited Time Only.
Absolute Poker is stretching the action by matching your cash, dollar for dollar! All new players collect up to $500 in free cash withAP's 150% First Time Deposit Bonus. Download software, register and claim your bonus right now.


Related Poker Articles:
1. 5 Great Freerolls And 150% Sign Up Bonus For New Players At..

(06/12/2009)


2. Absolute Poker College Challenge Provides Students With..

(30/10/2009)


3. Compete For $50K In Absolute Poker's 9-Seat Epic 9 Tournament

(25/10/2009)


4. Sports Fans Have A Chance To Win A Ticket To The Sports Legends..

(21/08/2009)


5. Titan Poker Promotions, Weekly Tournaments And Satellites To..

(17/08/2009)


6. Meet Lacey Jones At Absolute Poker Tables - She's New Leading..

(20/07/2009)


All Absolute Poker Room's News