POKER TOURNAMENTS INFO & FAQS
What New: World Poker Tournament at Gaming Club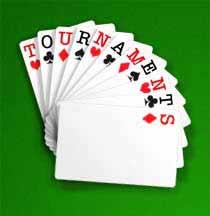 A tournament is a function available in InterCasino Poker (software version 4+ upwards) and other Poker Rooms' software (e.g. Royal Vegas Poker, Caribbean Sun Poker Room, Golden Tiger Poker and Captain Cooks Poker), which enables players to play their favorite games at no risk, because they only pay an initial entry fee. Usually, the fee is around $15 and players stand a chance of winning large cash prizes up to $1000.
Usually Poker Rooms also arrange a number of quick fire tournaments that require a smaller entry fee and offer more, slightly smaller prizes.
InterCasino Poker usually runs three large tournaments each month and a set of smaller tournaments.
How does a tournament work?
Players register their account and deposit funds in the normal way. They will then be offered the choice to enter a tournament of their preference.
All players who enter a tournament start with the same pre-set balance and the same pre-set amount of time to play. They can then play at any time they choose (within the tournament dates) until their time runs out, their tournament balance runs out, or the tournament dates end.
The player's winning/losing details are added to the tournament table and the player who has the highest position at the end wins.
Benefits of a tournament
Tournaments are a tremendous way of learning to play Poker games for those players who would like to play for real money at little or no risk into the casino.

They can enter the tournament and play to test the waters (the entry fee is $15, the minimum deposit amount is $20 [at Inter Casino Poker] so players will have some small balance to use in the casino at a later date). If you have not joined InterCasino Poker Room yet, join now and you will receive $50 free, just rake 300 hands.


What Poker games can I play?

At Inter Poker Room you can play:
7 Card Stud - Probably the most commonly played poker game, especially on the East Coast of North America.
Texas Hold'em - A seven-card game with simple rules that a beginner can easily master and begin to play right away.
Omaha High - Like Texas Hold'em, but players are dealt 4 cards and must use 2 out of their 4 cards no more and no less to form their hand.
Omaha High/Low - Here, the pot is split 50-50 between the best high hand and the best qualifying low hand, 5 cards of different values, 8 or lower.

At Captain Cooks Poker Room you can play:
1 on 1 Poker, Omaha, 7 Card Stud, 5 Card Stud and Texas Holdem