Bad Beat Jackpot Total Winnings Top $1.2 Million at Absolute Poker Room.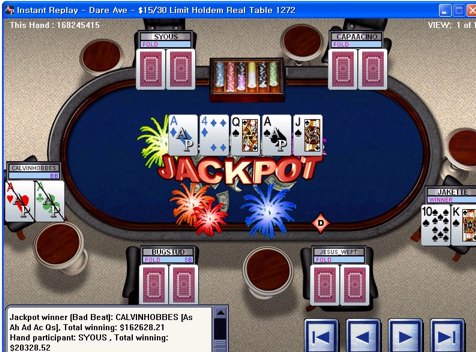 If you thought winning at Texas Hold'em poker table was rewarding, wait until you hear how lucrative losing can be. Absolute Poker room announced that up to date $1,297,394.94 in jackpot money has been won since the popular online poker site launched Bad Beat Jackpot on June 22nd, 2007. On the image you can see the biggest ever win of some $320,000 jackpot - the winner (with loosing hand) KALVINHOBBES won $162,628.21 personally on July 11th, 2007; the rest were distributed to other players and new jackpot seed.
"In less than seven weeks, our players have won an unfathomable amount of cash at our Bad Beat Jackpot tables," commented David Clainer, senior vice president for Absolute Poker. "The numbers we released today amount to an average of $185,000 being paid out every week for losing hands."
The latest Bad Beat progressive jackpot was claimed on August 7th by DAMETGARM who lost four 9s to a straight flush and instantly won over $50,000 for his remarkable loss.
If a player loses a hand holding four 8s or anything better at a Bad Beat Jackpot table, they'll win a piece of the Bad Beat Jackpot. A percentage of the jackpot is shared amongst the players where the bad beat occurred and a fraction of the jackpot is placed back into the pot for the next jackpot. Absolute Poker room collects $0.50 from the pot of each raked hand that is raked .25 or more. The Bad Beat poker jackpot will keep growing until someone hits an unbelievable bad beat.
The nearly $1.3 million figure includes money won by all players every time the jackpot has been hit. It doesn't take into account pots won through regular Texas Hold'em play at the Bad Beat Jackpot tables. Players have a chance to fill their accounts with hundreds of thousands in cash by losing a Texas Hold'em hand.
Absolute Poker is the only online poker site open to U.S. players to feature Bad Beat Jackpot tables. Hit the tables now and discover how good your next bad beat can feel.
The highest Bad Beat Jackpot in online poker history - now over $820,000!
Added: 30-Aug-2007. Absolute Poker has officially catapulted itself into the record books with the highest Bad Beat Jackpot in online poker history with the current value of over $820K. As soon as someone hits a qualifying bad beat, 65% of the jackpot will be shared between everyone at the online poker table where the bad beat went down. 25% of the progressive will go towards the next jackpot and 10% will go to the house.
Absolute Poker's Bad Beat Jackpot - turning the tables on bad beats! Take a seat NOW! You could be the next BIG winner.
Other Promotions and Bonuses at Absolute Poker
25% Reload bonus up to $150 and $200 for VIPs this Tuesday to Thursday! Use codes: 3x25 or 3x25VIP.

100% Initial Deposit Bonus up to $500! Enter Code AP500 in the cashier window.

There's been a pay rise! Sunday's Guaranteed is NOW $70,000. Every Sunday at 20.00 ET!

Enter our $150K Weekly every Saturday at 16:30 ET!
Source: Absolute Poker
Related Poker Articles:
1. Bad Beat Progressive Jackpot And Magic Hand Bonus At Golden..

(04/08/2007)



2. Lose With Four Of A Kind, 8's Or Better And Win Big Bad Beat..

(01/02/2006)



3. Lose And Win Big With The Bad Beat Progressive Jackpot At..

(25/08/2005)



4. Progressive Bad Beat Jackpot At Caribbean Sun Poker - Lose And..

(09/06/2005)



5. Another Big Bad Beat Jackpot Win And Winner Story From Absolute..

(04/07/2007)



6. History Made at Absolute Poker Rooom as Bad Beat Jackpot Hits..

(26/06/2007)



All Absolute Poker Room's News