Play For $7,000 WPT Vienna Package In Daily Satellites And Win Free Cash With The Snowball Promotion At Party Poker.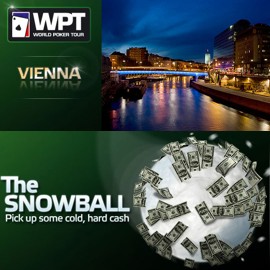 Guarantee your seat at the WPT's newest poker tournament by winning your seat at one of the PartyPoker's WPT Vienna Satellites daily. The qualifiers had started on 24th January. You can win your $7,000 WPT Vienna Package playing at Party Poker till 13th March.
WPT Vienna promises to be one of the highlights of the 2011 tour, set to attract many of the best poker players from all over Europe. The World Poker Tour(R) is getting bigger and offering a fantastic opportunity to play a starring role in a brand new tournament. The newest destination on the WPT calendar is Vienna (Austria) with all the excitement of the planet's premier poker tour hitting the famous city's Montesino Casino in March 2011. WPT Vienna promises to attract many of the best European players.
And probably the best possible chance to compete for the big money at this new tournament is winning WPT Vienna prize packages worth $7,000 at Party Poker, online.
Each $7,000 WPT Vienna package includes:
$4,600 WPT Vienna main event buy-in
$1,400 spending money
Five nights' hotel accommodation
The world-renowned and excellent hospitality
Play in the mix of qualifiers or weekly satellites that run from 24th January till 13th March at Party Poker and you could be one of the lucky winners. Start with a daily freeroll and you could win your $7,000 package to Vienna for free!

Check out the full WPT Vienna qualifying structure and register at Party Poker today for your chance to be part of the WPT's first-ever Vienna extravaganza. See the complete qualifying tournament structure below and plan your route to Austria today.

1. WPT Vienna Daily Freeroll (Entry: Free).
The top 50 poker players will gain entry to the WPT Vienna Sub Qualifier Speed Rebuy, see below.

2.a. WPT Vienna Classic Sub Qualifier Speed (Entry: $5 +$1), Daily.
One in 8 players will gain entry to the next WPT Vienna Satellite Qualifier.

2.b. WPT Vienna Classic Sub Qualifier Speed Rebuy ($1), Daily.
For every $40 in the tournament prize pool an entry is awarded to the next WPT Vienna Satellite Qualifier.

3. WPT Vienna Satellite Qualifier (Entry: $37.50 +$2.50).
Play daily at 13:45 ET and 21:10 ET & Sundays (Turbo).
One in 10 players will gain entry to the next WPT Vienna Satellite tourney.

4. WPT Vienna Satellite. 1 Package Guaranteed (Entry: $350 +$25).
Play on Sundays @ 15:20 ET.
One in 20 players will win a $7,000 WPT Vienna Package, guaranteed!

$7,000 WPT Vienna Package Winners
Congratulations to the following players who have already reserved their seats at WPT Vienna tournament by winning their $7,000 packages at Party Poker:
KAYDEN_KROSS, danieldoll, stuntman1111, zejnikogoj, CachiruloMan, moukari6, fradoisback, GoGoGod, Jennifer2113, YongSupremcy, schappuscha & Pokerccini.

The Snowball Promotion
With up to $10,000 in cash and freeroll entries worth a total of $100,000 on offer, The Snowball, latest stone-cold classic promotion, gives Party Poker players the chance to pick up huge amounts in prizes as they gather momentum. Players just need to earn points by playing at the real money tables until February 28th.

Play in The Snowball and you can win up to 24 prizes and keep one of them. You'll keep everything you win as you move up through the levels. Remember, your stash of prizes will get bigger and bigger the more you play. Make sure you take your best shot with The Snowball promo today.

Check out what you can win:
Points - Prize - Total prizes won
75,000 - $5,000 - $10,000 + all freeroll entries
50,000 - $1,350 - $5,000 + all freeroll entries
40,000 - $1,150 - $3,650 + all freeroll entries
30,000 - $1,000 - $2,500 + all freeroll entries
20,000 - $475 - $1,500 + all freeroll entries
15,000 - $375 - $1,025 + all freeroll entries
10,000 - $185 - $650 + all freeroll entries
7,500 - $180 - $465 + all freeroll entries
.....

See PartyPoker promotions (news) section for more details. Visit Party Poker site today and play for your share of cash and WPT packages. New players can get exclusive, 100% match signup bonus up to $500 free if they follow the link to the poker room on this page. Download free poker software now.


Related Poker Articles:
1. Play In The Weekly Super Satellite Tournaments At Titan Poker..

(20/11/2010)


2. Qualifying Satellites For ECPokerTour Vienna Start At Titan..

(03/07/2010)


3. Online Poker Players Can Compete For Millions At The 2010 WSOP..

(21/06/2010)


4. 2010 WSOP Packages, $150K Extreme Points Race And Prime Time..

(05/05/2010)


5. Win Your Share Of EUR500,000 Guaranteed This March In Barcelona..

(27/12/2009)


6. Titan Poker Promotions, Weekly Tournaments And Satellites To..

(17/08/2009)


All Party Poker Room's News