PARTY POKER REPORTS: POKER ARTICLES & NEWS
Party Poker Related Articles From The Daily Online Poker News: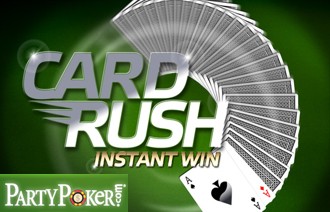 1. Card Rush Race, WPT Barcelona: Last Chance And €5K Knock Out Bruno Tournament For French Players At Party Poker (25/04/2011) Card Rush Promo With 1.8 million prize cards up for grabs, everyone can be an instant winner with Card Rush promotion at Party Poker. All the players have to do to earn a Card Rush card is collect just 15 points. Every single card contains a prize, from cash to points to freeroll entries and Card Rush Race points. Win every single time you collect one of Party Poker's 1.8 million prize cards..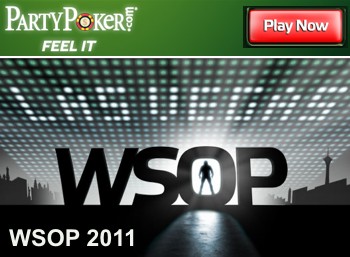 2. Play At The 2011 World Series Of Poker With $14,000 Prize Package At Party Poker (21/03/2011) Every poker player dreams of playing at the World Series of Poker (WSOP) and winning the biggest prize in the game. Well, this year you can make fantasy become a reality by guaranteeing your place at the 2011 WSOP for free! Party Poker room started tournaments (running till 19th June, 2011) to win your way to the WSOP. Qualifiers are running now until 19th June so that means loads of opportunities to..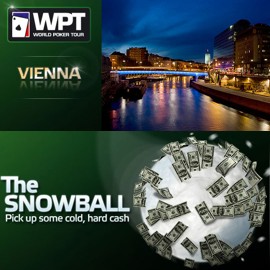 3. Play For $7,000 WPT Vienna Package In Daily Satellites And Win Free Cash With The Snowball Promotion At Party Poker (19/02/2011) Guarantee your seat at the WPT's newest poker tournament by winning your seat at one of the PartyPoker's WPT Vienna Satellites daily. The qualifiers had started on 24th January. You can win your $7,000 WPT Vienna Package playing at Party Poker till 13th March. WPT Vienna promises to be one of the highlights of the 2011 tour, set to attract many of the best poker players from all over Europe. The..

4. The Million-Dollar Hand Promotion At Party Poker - Win $1 Million With Royal Flush In January (16/01/2011) Party Poker is awarding a fabulous opportunity for online poker players to win $1 million by just picking up a pair or better in a five-card hand in the Million Dollar Hand promo! Hit the hand worth $1 million Become up to $1..

5. The Five Star Poker Challenge - Win Up To $500,000 Plus Aussie Millions' Seats At Party Poker Room (15/12/2010) 5 Star Poker Challenge - Win your share of $5,000 every single day! The Party Poker's Five Star Poker Challenge is the new and easy way of giving you the chance to win big money for the whole of December. It's so simple. For every..

6. Play At The Bellagio When You Win A $14,000 WPT Festa Al Lago Package At Party Poker (20/09/2010) This October, the World Poker Tour(R) hits none other than the luxurious Bellagio casino on the world-famous Las Vegas strip for WPT Festa al Lago with fabulous $14,000 prize package up for grabs. Festa al Lago The best just got..

7. Win Your Seat At The World Poker Tour Borgata Poker Open In Atlantic City At Party Poker (20/08/2010) Win your $7,500 seat to the WPT Borgata Poker Open in Atlantic City World famous Atlantic City is the latest stop on this year's World Poker Tour and to suit such a prestigious occasion the hot action is set to take place at the..

8. $350K Full House Promotions, The Palladium Oktoberfest Poker Race And WPT Borgata Poker Open Seats At Party Poker (19/08/2010) Party Poker offers a full house of promotions this August. Players could take home a share of $350,000 with a three-in-one promotion that has something for everyone. There's $160,000 up for grabs in the Full House Sit & Go Jackpots..

9. 1.8 Million Prize Cards Are Given Away In Card Rush XL Promotion At Party Poker (05/07/2010) Party Poker is giving away 1.8 million prize cards and every one is a winner. Claim your cards right now - win every single time you collect one of the 1.8 million prize cards. Promotion starts at: 00:00 ET, 28th June. End..

10. Party Poker France Is Now Live And Open To Real Money Online Players (02/07/2010) We are happy to inform you that PartyPoker.fr is now live and open to real money players in France. From today, you can start playing with a new poker software available on the new Party Poker website. Popular poker room has..

11. Countdown To World Poker Tour(R) Grand Prix de Paris, Presented By Party Poker France, Televised Main Event Starts Saturday (03/05/2010) Countdown To World Poker Tour(R) Grand Prix de Paris, Presented By Party Poker France, Televised Main Event Starts Saturday Aviation Club de France Will Host 2 Televised WPT Events, Kicking off Saturday May 8 World Poker Tour(R)..

12. Win A Brand New Aston Martin DB9 Coupe With Party Poker - Fly To The Drive The Dream Final Event In London (30/04/2010) Players can win a dream car for absolutely nothing just playing poker at the popular poker room online. Party Poker will buy you a new Aston Martin DB9 Coupe if you finish in top position at their live Drive the Dream final event..

13. The Gladiator's Challenge - Win $12.5K 2010 WSOP Seat At Party Poker (01/03/2010) Accept The Gladiator's Challenge - Win 2010 WSOP Seat The Gladiator is back at Party Poker, and this time it's bigger and better than ever before. Step into the arena for 30 days of exciting poker action from 3rd March to 1st April..

14. Party Poker Signs Francesco Totti As A New Ambassador (27/02/2010) We're thrilled to announce that football legend Francesco Totti has become part of the Party Poker team and joined the likes of Giancarlo Fisichella! Online poker players can take on Er Pupone at PartyPoker tables by opening a..

15. LA Poker Classic 2010 Winners Can Share In The Exclusive $1,000,000 WPT Bonus From Party Poker (13/02/2010) Exclusive $1,000,000 WPT Bonus at Party Poker This February Party Poker has launched the exclusive $1,000,000 WPT bonus for Party Poker qualifiers. Party Poker is the place for poker players to qualify for WPT events and there is no..

16. The Million-Dollar Hand Promotion At Party Poker - Win Up To $1 Million (21/10/2009) Party Poker's "The Million-Dollar Hand" promotion is back by popular demand. The promotion that runs through O ctober 30, 2009 is an exciting opportunity for all online poker players to win a whopping $1 million by simply..

17. The Genius Promotions At Party Poker Awards Extra Cash On Every 50,000th Hand (21/07/2009) The genius has just got even bigger and better and will now run for 15 million hands with increased minimum jackpot payouts of $250! The experts at Party Poker have tapped into the brilliance of the finest scientific minds around..

18. Up To 40% Official Rake-Back At Party Poker - PartyPoints Are Jumping In Value (14/06/2009) Get Ready: at the end of June Party Poker will be improving the PartyPoints store. PartyPoints will be substancially increasing in value by Up to 50%. In anticipation of this change, we wanted to ask you to hold onto your..

19. The Million-Dollar Hand Promotion Is Back At Party Poker This Month (06/06/2009) The Million-Dollar Hand - Will You Hold It? "The Million-Dollar Hand" promotion is back by popular demand. The great promotion that runs from June 5th through June 28, 2009 is an exciting opportunity for Party Poker players to win..

20. Release Conditions For Super Sign up Bonus At Party Poker Were Modified (13/12/2008) To give a greater flexibility to players, popular online poker room Party Poker is making some minor changes to the super sign-up bonus in US$, Euro and UK Pound, effective December 9, 2008. The release criterion of the bonus is..

21. Big Names Line-Up For The First Major Tournament In Europe In 2009 - Irish Poker Championship (11/12/2008) The first major poker tournament of 2009, the €2,000 buy-in (9% withheld) Party Poker's Irish Poker Championship http://www.partypokeripc.com/, takes place from January 2nd to 5th, 2009 at the Radisson SAS Hotel in Galway..

22. Soraya Homam From Germany Is Party Poker Women's World Open II Champion (11/10/2008) Congratulations to Soraya Homam, 46-year-old German poker professional who is the winner of the Party Poker Women's World Open II! Homam, a veteran on the circuit from Frankfurt danced a jig with delight after she beat fellow German..

23. Be The King Of The Table With Two New Big Deal Promotions At Party Poker (02/10/2008) The launch of the next generation of Party Poker website with bountiful features and a shiny new interface is being backed by two flagship players' promotions. Win your way to the King of the Table and win your share of the..

24. Record Breaking 36-Hour Poker Den Tournament Starts In London This Tuesday (29/09/2008) The famous Poker Den is back this September! 'PartyPoker.com Poker Den: The Big Game III' will take place in London on Tuesday 30th September at 14.30 BST and Wednesday 1st October. The tournament format has changed this year -..

25. Party Poker Presents New Lobby And Website, And Wins eGaming's 'Socially Responsible Operator of the Year' Award (26/09/2008) The all new PartyPoker software and new look of the website is coming soon. After the sneak preview of the table last week, information about the revamped Party Poker lobby is now available for players. You can download a new poker..

26. Invitation To $10,000 Celebration Freeroll Tournament At Party Poker (19/09/2008) The all new Party Poker website is coming soon and you can sneak a first peek at the new table on the official Party Poker's blog now at blog.partypoker.com Despite all the improvements made over the years, popular online poker..

27. US Player Yevgeniy Timoshenko Wins Historic APT Macau In Chine And Takes $500,000 Grand Prize (02/09/2008) A highly rated poker player, 20-year-old Yevgeniy Timoshenko from the United States of Ukrainian descent, has won the this yaer's APT Macau, Asia's largest guaranteed tournament, at the glamourous Galaxy StarWorld casino & hotel...

28. $1 Million Guaranteed Tournament At Party Poker On Saturday - May Madness (26/05/2008) May Madness is coming to an end at Party Poker where $1 million guaranteed tournament will be held on Saturday 31st May at 12.45pm ET (5.45pm BST, 6.45pm CET), with a championship style blind structure promising plenty of play...

29. Play Weekly 300k Guaranteed Sunday Tournament With $215 Buy-In At Party Poker (31/05/2007) Take part in Party Poker's Sunday $215 Tournament and add some excitement to your weekend. $300K Guaranteed Sunday - buy in directly or win an entry from a MTT or STT qualifier tournament. This No-Limit Hold'em tournament is held..

30. World Series Of Poker 2007: Play PartyPoker's Super Satellites And Steps Tournaments To Win $11,000 WSOP Packages (09/04/2007) Party Poker's tournament schedule is crammed with different ways to get online players to the biggest poker event of the year. Satellites are now available at PartyPoker where you can find your way to Vegas this summer. Qualify..

31. Win A Share Of $2,500 Prize Pool In Party Poker's New 'Take It Easy' Promotion (07/04/2007) Take it easy from April 7 through 11 and win a freeroll tournament entry at Party Poker. Just relax, becasue you could win a share of a cool $2,500 prize pool in new "Take It Easy" promotion at Party Poker card room. Play 75 raked..

32. Play Tell-a-Friend $5,000 Countdown Freeroll Tournament At Party Poker (30/03/2007) Refer a friend to Party Poker to claim your seat in this $5,000 freeroll tournament. You'll each get a cash bonus and a shot. Tell your friend about Party Poker and play with him/her in this special $5,000 freeroll. Plus, PartyPoker..

33. PartyPoker.com Premier League Poker To Be Launched Soon (15/03/2007) Party Poker is pleased to announce the launch of the PartyPoker's Premier League Poker, a new televised poker spectacle (being filmed at Maidstone Studios in Kent, UK). The groundbreaking series will feature 12 of the world's..

34. Turn Your $3 Into $2,000 In Steps Challenge - Sit 'n Go Tournaments At Party Poker (24/02/2007) Party Poker has got a treat in store for fans of Sit & Go tournaments: The PartyPoker Steps Challenge. The idea is simple. Buy in to any of the 6 levels and place first, second, or even third in some levels, to move up to the next..

35. Liam 'The Gentleman' Flood Ties Up PartyPoker's European Open Title (19/01/2007) Liam 'The Gentleman' Flood proved there is no substitute for a wise head and experience as he tied up the PartyPoker's European Open in emphatic style to take the $125,000 first prize. The 64 y.o. retired bookmaker, from County..

36. Learn To Win With 'Poker Trainer' At Party Poker (10/01/2007) Sharpen your poker skills for the real deal! Party Poker added a brand new 'Poker Trainer' to its free software. Play against the computer while you learn the game. Remember: A good poker player never stops learning. That's why..

37. WPT Enterprises Signs Multi-Year Sponsorship Agreement With PartyGaming Plc For International Broadcasts Of WORLD POKER TOUR And Professional Poker Tour Television Series (07/12/2006) WPT Enterprises, Inc. today announced that it has signed a multi-year agreement with PartyGaming Plc, owner of PartyPoker.com, pursuant to which they will provide international television sponsorship of the WORLD POKER TOUR (R)..

38. Sebastian Wins In The PartyPoker's German Open In London (24/10/2006) 22-year-old Hamburg poker professional Sebastian Ruthenberg triumphed in the final of the inaugural PartyPoker's German Open on Friday 20 October 2006 at the Poker Den in London scooping the €50,000 first prize from a total..

39. Snooker Emperor Buys New Clothes And Pockets PartyPoker's Sports Stars Challenge Title (10/10/2006) Plucky Irish world snooker number one Ken Doherty proved that he had mastered a different kind of table at the recent PartyPoker's Sports Stars Challenge tournament. The 37-year old was on cue to sink his fellow sportsmen and chalk..


Other Poker Rooms News:
Americas Cardroom Absolute Poker Gaming Club Royal Vegas Caribbean Sun Prima Poker InterPoker Golden Tiger Noble Poker Seven Sultans Titan Poker Ultimate Bet Poker Rewards Full Tilt Poker WSOP 2006 WSOP 2007 WSOP 2008 WSOP 2009 2010 WSOP

All Daily Online Poker News