Rules & Strategies








Poker News: Poker Trainer, New Software, Party Poker, Learn To Play
February 28, 2006.
Learn To Win With New Party Poker Trainer In New Software Package.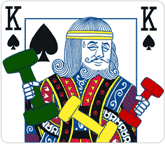 New Poker Trainer is available now in play money mode at Party Poker. When you're new to poker, the ins and outs of the game can seem a little overwhelming. Plus, trying to psyche out your opponents while calculating your pot odds on the fly is a tall order even for seasoned poker pros.

That's why the room has added a new 'Poker Trainer' to its free software package that will help you improving your game. Using the Poker Trainer, you'll soon have the skills and confidence to stay on top of Texas Hold'em, the most popular version of poker played online.

Powered by Poker Academy, the most advanced training software on the web, the PartyPoker's Poker Trainer lets you compete with Artificial Intelligence (AI) players on a play money table. This helps you learn the ropes in real-time - you can apply what you learn right away and see the results!

Great Poker Trainer features:
Three levels - beginner, intermediate and experienced
Choose how many virtual players you want to compete against
The 'Hand Evaluator' advises you as you play a hand, telling you its value, your chance of winning (percentage), and the pot odds
An 'Advisor' function complements the Hand Evaluator and guides you on the best moves for each hand (fold, call, or raise)
'Session Stats' show you how you performed on the trainer (hands, hands played, hands won, and win rate are all available)
Included in the free PartyPoker.com software.
Using the trainer, you'll play a 'virtual' game against some of the most advanced computer-generated players online in a play money Texas Hold'em game. Powered by Poker Academy, the most advanced training software on the web, the Poker Trainer represents over 10 years of artificial intelligence research, courtesy of four professors from the University of Alberta. This means playing against an AI is every bit as taxing as playing against real people, plus you can apply what you learn right away and see the results!

As well as sophisticated virtual players, the Poker Trainer offers a specially developed set of functions that you can rely on for tips and strategies. The 'Hand Evaluator' will help you understand your hand, from the value of the cards you're holding to your percentage chance of winning the pot. The 'Advisor' function will give you hints on whether to fold, call or raise, while the 'Session Stats' feature will show you how well you're doing. You can even replay hands if you want to understand exactly what you did wrong - or right!

Playing a game on the Poker Trainer is exactly like playing on a regular PartyPoker.com table, so when you're ready to compete with live opponents, you'll feel right at home.

Use the PartyPoker.com Poker Trainer to improve your game today. Download Party Poker's free software and learn while you play.

Source: Party Poker


Related Poker Articles:
1. English Harbour UK have introduced its newest software release (06/10/2004)
2. Take Part In Party Poker's Canadian Poker Championship With.. (29/12/2005)
3. Maryland Pet Store Owner Bruce Bartfeld Gets Assist From Cat To.. (21/12/2005)
4. Player 'Altonham' From Illinois Won Porsche 911 At Party Poker.. (23/09/2005)
5. Enter the London Poker Den Tournament On PartyPoker.com (29/08/2005)
6. Win A Seat At 2006 PartyPoker.com Million V Tournament With.. (27/08/2005)

Online Poker News >>> February 2006 Poker News

All Party Poker Room's News



Tournaments | Texas Hold'em Strategy | Hold'em Lessons