Seats To The 2007 WSOP Guaranteed - Win Up To $100,000 In One Sick Promo.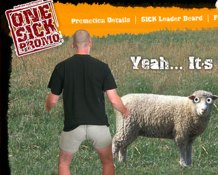 One Sick Promo is rolling into its third month with new online poker players still making the list within 30 days. SunPoker cardroom reported some players had already accumulated 50K+ MPPs in a single month.

It's the best WSOP promotion online poker has ever witnessed, $1.25 Million in WSOP prize packages to the top 100 most loyal players. Five months to go and plenty of time for poker players to claim their seat, mansion and flight to Vegas.

One SICK Promo is Exclusively for SunPoker players, so if you're not a member yet, Download the free poker software Now!

Is it too early to start thinking about the 2007 WSOP? We don't think so. Now with the US online players out of the way, we are convinced a non-US player will win this year's WSOP, and we want to make sure he is a SunPoker player.

How do I win a package?
So the top 100 MPP (My Poker Points) earners in SunPoker between 1 December, 2006 and 31 May, 2007 will be sent to the 2007 WSOP, plus kicking in some SICK extras you'll see below. MPPs are Sun Poker's way to reward its loyal poker clients. Points are earned by playing at a regular cash game or ring game tables. Players are awarded MPPs along the following schedule:

Rake from 0 to .24 = 0 MPP
Rake from .25 to 0.99 = .25 MPP
Rake from $1 to $3 = 1 MPP
Tournament Fee's $/£/€ 1 = 3 MPPs.

So, do you want to play in the biggest and most prestigious poker tournament the world has ever seen? SunPoker is giving away over $1,250,000 in cash and prizes, including its own Private Jet from London to Las Vegas for the 2007 WSOP.



SunPoker Private Jet
How about arriving in a private jet with a roll of cash that could choke a hippo? If that's not SICK enough, how about inviting a friend to come with you?
Top 5 packages for One SICK Promo have you and a friend riding to Vegas in SICK style aboard a swanky private jet. For good measure, SunPoker is going slip the top SICK-O $5,000 in spending cash to buy himself some respectable clothes for the trip, and even the 5th place finisher gets a respectable $2,000 wad of cash.

SunPoker Mansion in Vegas is the SICKEST place to stay in Vegas.
Need a place to stay in Vegas? After arriving is style in Vegas, you're going to need a place to stay, and we've got you covered... It's the SunPoker Mansion! A SICK 10 bedroom palatial estate with all the trimmings.

Premium Accommodation Packages
Not in the top 5, not a problem? They still have a swank and exclusive addresses for 6th through 20th, in addition to the tournament chips and spending cash.

Winners of 6th through 10th - Platinum House is the next best thing.
In addition to the SICK amount of tournament chips, spending cash and airfare packages, SunPoker will put you up in this 5 bedroom villa in this Desert oasis of Las Vegas. Kick back and unwind from the stresses of playing poker 18 hours a day in your own private pool.

11th through 15th - Gold House Package
Another notch down in the Promo ladder, but none the worse off. On top of the tournament chips, spending cash and airfare packages, the Villa includes your own private pool, SICK views of the Vegas skyline, and a hotline to the hottest strippers in town...uh, I meant pizza place.

16th through 20th - Silver House Package
Nevada's nickname is the "Silver State", that's the end of my history lesson, and the segway into the Silver accommodation package. This unique villa boast 5 bedrooms, hot tub, pool table, and more to make your stay super comfortable. Kick back and enjoy this Desert retreat...Sounds like a Real Estate commercial. This is all in addition to tournament chips, spending cash and airfare packages. Yeah...It's this SICK!

$50,000 H.O.R.S.E. Seat

Do you think you're the best of the best? Prove it! SunPoker is giving away a $50,000 H.O.R.S.E. seat.


For the very first time, an online poker room is offering up a seat at the famed H.O.R.S.E event which is considered by the top pros to be the ultimate show of poker skills. That's a $50,000 seat going to the winner of an exclusive SunPoker freeroll for all the players who accumulate 50,000 MPP's between 1 December 2006 and 31 May 2007.

This is without a doubt the most respected test of poker skill that has existed in the WSOP. We thought it was only fair that one of online poker players get the chance to play in this seriously SICK event.

Every player that earns 50,000 MPP's during the One Sick Promo will be eligible to play in a freeroll to win a seat in the H.O.R.S.E. Event at the WSOP. Besides being the most respected event in professional circles, this things costs Fifty F***ing Thousand Dollars. That could buy enough doughnuts to make Kate Moss visible again to the human eye.

The Game of H.O.R.S.E. is a mixed game that combines 5 different types of poker in to one tournament: Texas Hold 'Em, Omaha, Razz, Seven Card Stud and Seven Card Stud 8 or better. This is a once in a lifetime opportunity, so start earning those valuable MPP's now.

Single Table Free Rolls
Round out the top 100, and on top of the tournament buy-ins and cash, we have some SICK travel packages up for grabs. Everyone in the top 100 will have worked hard to get there and SunPoker want them to have to chance to ride with a few extras. That's why they've put together 8 Single Table free rolls for its players that finish placed 21st to 100th.

1) 21st to 30th - Will play for five flight and hotel packages* each valued at $4,500
2) 31st to 40th - Will play for 3 flight and hotel packages* each valued at $4,500
3) 41st to 50th - Will play for 2 flight and hotel packages* each valued at $4,500
4) 51st to 60th - Will play for 1 flight and hotel package* valued at $4,500
5) 61st to 70th - Will play for 3 flight and hotel packages** valued at $3,500
6) 71st to 80th - Will play for 2 flight and hotel packages** valued at $3,500
7) 81st to 90th - Will play for 3 flight and hotel packages** valued at $3,500
8) 91st to 100th - Will play for 2 flight and hotel packages** valued at $3,500

* - Hotel packages for free rolls 1-4 are for a three week stay
** - Hotel packages for free rolls 5 - 8 are for a one week stay

With the exception of the HORSE seat, these are NOT freerolls that you have to win in order to get the WSOP Tournament buy-ins, if you're in the top 100 MPP point earns at the end of One SICK Promo, you get the Buy-ins and SICK extras.

SunPoker will be giving away 100 top shelf WSOP packages that offer the winners everything from private jets to hotel suites, and the top package will win $50,000 for sure, and if he wins the H.O.R.S.E. Seat Free Roll, that's and additional $50,000!

Source: SunPoker


Related Poker Articles:
1. Win A Seat At Exclusive Poker After Dark Tournament With $120K..

(02/01/2007)


2. Win Your Seat At The 2006 Caribbean Poker Classic At Sun Poker..

(12/11/2006)


3. Win Your Seat At The Caribbean Poker Classic Worth $11,300 At..

(24/10/2006)


4. Detroit Native Wins Seat At Upcoming World Series Of Poker..

(06/06/2006)


5. WSOP 2006 Qualifiers And Second Chance $200K Freeroll At Sun..

(17/05/2006)


6. Win 1 WSOP Seat, Get 1 Free At InterPoker - Play World Series..

(24/04/2006)


All Caribbean Sun Room's News

All WSOP 2007 Room's News