Rules & Strategies








Poker News: 7-Stud, 7 Card Stud, Mike Caro, Poker Tips, Doyles Room
October 12, 2008.
7-Stud Poker Tips: Bluffing, Calling And Pairs. 3 Tips From Mike Caro.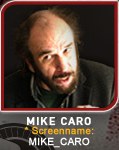 We are proud to present you three 7-card stud poker tips from the "Mad Genius" Mike Caro. Mike is the well-known professional poker player, pioneer poker theorist, and author of several books on poker theory.

7-Stud: They're More Likely To Be Bluffing, Not Less Likely
In reading poker tells, one of the most important things to do is watch your opponents look at the final river card. If it helps them, they're very likely to only look for a short time. Then they'll quickly place the card facedown and try to look uninterested, perhaps staring away from the approaching betting action. This is a ploy to make you think the card wasn't a good one, and whenever you see this mannerism, you should be wary, and you should not bet or call with marginal hands.

Conversely, if the opponent keeps staring at the card longer than necessary, that's an indication that it didn't help. He's trying to make you think that he's interested in it. He isn't, and you can bet medium-strong hands for profit.
In 7-Stud, Sometimes You Should Call Even When The Odds Are Bad!
On that last river card, you want to be able to make good laydowns sometimes. Of course, most of the time you're supposed to call unless you have strong reasons not to, because the pot is usually very large relative to the size of the call. The rewards overwhelm the risks. Fine, but if you take poker seriously, you will look for opportunities to make quality laydowns. Overall, these save you money. Sometimes you can fold a strong hand when it's obvious that your opponent must have you beat.

But wait! You usually don't want your opponents to know you folded a strong hand, otherwise they'll be inspired to take shots at you in the future and steal whole pots when you least suspect it. For this reason, I seldom fold strong-looking hands on the river in 7-stud. If I have aces-up with aces showing among my face-up cards, I'm less likely to fold than if I have aces-up with no pair showing.

Once an opponent realizes that I'm making rational laydowns with quality hands, I'm a target. I'd much rather have opponents think I'm going to call everything unless I have nothing. My general philosophy of poker is that I want to compete against loose, meek opponents who call me but don't bet into me. If I can do something to promote that weakness, even if it's a slightly bad call right now, when I have powerful cards showing, I'm often going to make that call despite the odds.
Don't Think Of 7-Stud Pairs The Same Way As Hold'em Pairs
It's important to understand the fundamental difference between starting with a smaller pair in hold 'em and starting with a smaller pair in seven-card stud. In stud, you can improve by making a bigger two-pair than your opponent or by simply catching another pair when your opponent doesn't.

In hold 'em, you cannot win these ways. In order to draw out in hold 'em when you're holding the smaller pair, you must catch a third card of your pair's rank, make a straight or flush using one card, or play the board to tie (which, by the way, can happen when two pair and a kicker hit the board -- all ranking higher than either your or your opponent's original pair).

So, as an example of the difference in difficulty of overcoming a bigger pair in hold 'em, let's use a pair of sevens vs.. a pair of sixes as an example. The assumption is that the first two cards in hold 'em are your private two cards, of course, and the remaining five cards are the communal board. The assumption in seven-card stud is that the pairs are the first two cards in the hole, with five cards to come (including the not-yet-dealt random door card [first face-up card] for each player). We will make these two individual pairs consist of four different suits.

Based on computer simulations involving 4,000,000 individual hands dealt, here's the difference:

In hold 'em, the pair of sevens wins 81 percent of the time, leaving you with only a 19 percent chance of winning with your pair of sixes.

But... In seven-card stud, the pair of sevens wins 58 percent of the time, leaving you with a much-more-significant 42 percent chance of winning with your pair of sixes.

You can play with Mike Caro in the only online poker room - Doyles Room. Popular online poker room currently offers industry leading 110% match super bonus up to $550 free on your first deposit. This is the only poker room endorsed by Doyle Brunson. You can play with the legends of poker in a special Bounty tournaments on Wednesday 9:30 PM EST.


Related Poker Articles:
1. PokerTime Adds New Game Razz Where Winning Low Is The Way To Win (28/09/2008)
2. Master Classics Satellites And $250k Super Saturday Turnament.. (21/09/2008)
3. Poker Lessons: Mike Caro's Law Of Least Tilt: The Most.. (09/09/2008)
4. $250,000 Guaranteed Super Saturday Tournament And New RAZZ.. (06/09/2008)
5. When To Call And When To Bet - Finally, Some Powerful Answers.. (19/08/2008)
6. Bounty Tournament At Doyles Room - More Value, Bonus Money, And.. (19/07/2008)

Online Poker News >>> October 2008 Poker News



Tournaments | Texas Hold'em Strategy | Hold'em Lessons | Best Casino Reviews