2008 DAILY ONLINE POKER NEWS
September Casino Poker News:

September 29, 2008. Record Breaking 36-Hour Poker Den Tournament Starts In London This Tuesday. The famous Poker Den is back this September! 'PartyPoker.com Poker Den: The Big Game III' will take place in London on Tuesday 30th September at 14.30 BST and Wednesday 1st October. The tournament format has changed this year - instead of a 24 hour continuous cash game the action will now run for a record breaking 36 HOURS so expect..

September 28, 2008. PokerTime Adds New Game Razz Where Winning Low Is The Way To Win.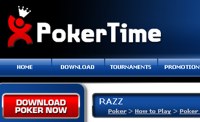 This month PokerTime has added a new game to its suite of online poker games, called Razz. The game of Razz is very similar in play to 7-card Stud and sometimes called Seven-Card Stud Low. One of the exceptions is that Stud plays, as usual for Poker, for the highest hand being the winner, whereas Razz does just the opposite: the lowest hand wins in Razz. The high card (Aces are low) is required to make the forced bet in the first round, and the low hand acts first on all other game rounds. Straights and Flushes have no ranking in Razz, so the best possible hand is 5-4-3-2-A, also called "a Wheel" or "a bicycle". Play the new game at PokerTime or read more about this poker game here.

September 26, 2008. Party Poker Presents New Lobby And Website, And Wins eGaming's 'Socially Responsible Operator of the Year' Award. The all new PartyPoker software and new look of the website is coming soon. After the sneak preview of the table last week, information about the revamped Party Poker lobby is now available for players. You can download a new poker software right now and find many of the new features will make playing on more than one table at a time..

September 21, 2008. Master Classics Satellites And $250k Super Saturday Turnament At Doyles Room. Play in Europe's most Historic Poker Tournament! Doyles Room is awarding 3 guaranteed $12,500 prize packages to the poker event in Amsterdam on November 7th - 15th. Your vacation includes a €6,200 entry to the Lido Poker Main Event! The spotlight event of the seven poker tournaments taking place this year at the Master..

September 21, 2008. Poker Cup Australia 2008, Grosvenor UK Poker Tour And More Promotions At Titan Poker. Another new week at Titan Poker means even more exciting new promotions and guaranteed tournaments to look forward to. Whether its the GUKPT or the annual Poker Cup Australia, be sure to play at Titan Poker room for your chance to get into the action and win a share of the big prize pools. Poker Cup Australia 2008 Famous for..

September 19, 2008. Win Casinos Austria Poker Tour (CAPT 2008) Packages At Sun Poker.

SunPoker is giving everyone a chance to win a seat to play in the Casinos Austria Poker Tour in Graz, Austria by having a week long chance of qualifying for the Sunday finals. Qualify for as little as €2! Depending on what stake you want to play at Sun Poker has the perfect tournament. Starting from August, online poker players can sign up for a street where 50% of the field advances to next days corresponding Street #2 on Tuesday. Play through Streets 1-6 to play in the €200 + €20 Final on Sunday. Winner of that gets a €2,500 CAPT Package to play in the live Graz tournament.

September 19, 2008. Invitation To $10,000 Celebration Freeroll Tournament At Party Poker. The all new Party Poker website is coming soon and you can sneak a first peek at the new table on the official Party Poker's blog now at blog.partypoker.com Despite all the improvements made over the years, popular online poker room, Party Poker decided on a major makeover - it's a complete facelift. Thousands of work hours have..

September 13, 2008. Deuces Wild Level-Up Video Poker Game And Two New Slots Have Been Launched By Microgaming. After the success of Microgaming's Jacks or Better Level Up (launched last month, the first version of this genre of play), comes the second online video poker game in this series Deuces Wild Level Up. Deuces Wild Level Up is a type of power poker which offers 4 levels, where the player needs to win on a level in order to progress to..

September 9, 2008. Poker Lessons: Mike Caro's Law Of Least Tilt: The Most Important Thing In Poker. We continue to publish the best poker articles and lessons from the pros. This time we present Mike Caro's publication on tilt in poker: Caro's Law of Least Tilt. Today, we're going to review the most important winning concept in all of poker. You've heard me say that, for skillful players, the key to winning is simply playing..

September 8, 2008. PlayboyGaming's 1st Ever Strip Poker Tournament And $100,000 Event At InterPoker. PlayboyGaming's 1st Ever Strip Poker Event Here is a great opportunity to take part in PlayboyGaming Poker's new promotion. 12 of lucky players will have the opportunity to be paired up with 12 gorgeous Playboy girls to take part in PlayboyGaming's first ever strip poker tournament in November in London and play for a prize pool of..

September 6, 2008. $250,000 Guaranteed Super Saturday Tournament And New RAZZ Poker Game At Doyles Room. This month Doyles Room have exciting news for poker players and the largest Guaranteed Saturday tournament in poker. $250,000 Guaranteed Super Saturday Tournament SEPTEMBER 27th, 4PM ET. It's going to feel a lot like Christmas on the last Saturday of September when you can take part in a tourney for your share of the 1/4..

September 4, 2008. Titan Poker Players Shine in Asian Poker Tour Macau With Spanish Poker Champion Takes 5th Place at APT Macau Representing Titan Poker. Titan Poker room fielded 17 talented poker players from around the world at the Asian Poker Tour (APT) Macau, China. Three of them finished in the money and the top player has taken 5th place on this prestigious tournament on this side of the globe with US$1.5 Million prize pool. Playing on behalf of popular online poker room Titan..

September 2, 2008. US Player Yevgeniy Timoshenko Wins Historic APT Macau In Chine And Takes $500,000 Grand Prize. A highly rated poker player, 20-year-old Yevgeniy Timoshenko from the United States of Ukrainian descent, has won the this yaer's APT Macau, Asia's largest guaranteed tournament, at the glamourous Galaxy StarWorld casino & hotel. 257 players from over 40 countries lined-up for a GUARANTEED prize pool of US$1.5 million and GUARANTEED..


Previous Monthly Poker News:
Aug '08 Jul '08 Jun '08 May '08 Apr '08 Mar '08 Feb '08

All Online Poker News & Articles