$1,000,000 Tournament Leaderboards, WSOP 2009 Seats And More Promotions Of Absolute Poker.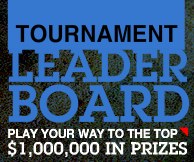 $1,000,000 Tournament Leaderboards
Play your way to the top and compete for $1,000,000 in prizes. Our new Tournament Leaderboards are officially live and now updated in real time. Whether you like Multi-Table or Sit n Go Tournaments, we have you covered. Compete in weekly, monthly, and yearly TLBs at stakes for every budget. All you have to do is play!

A tournament leaderboard (TLB) is a tournament performance tracking system used to reward the best players at Absolute Poker room over a specific period of time. Every player who participates in a qualifying tournament is automatically ranked on the tournament leaderboards. Absolute Poker employs a specific formula that takes into account rank and the total money in the prize pool to award points to the online players who cash in the tournaments.

TLB Types
Absolute Poker features 2 main divisions of leaderboard competitions - Multi-table Leaderboards (MTT) and Sit 'n Go Leaderboards (SnG). The MTT leaderboard division features a weekly, monthly and yearly leaderboard competition. The SnG leaderboard division is divided into 3 subdivisions - Diamond, Heart and Spade. Each of these subdivisions represents specific buy-in levels. The SnG leaderboard competitions run both weekly and monthly.

Play your way to the top - It's all about position. New Leaderboards are live, get ready to take it to the top and win cash prizes, big money freerolls, and more.

Monthly MTT leaderboard winners
The top 50 players on the AP Monthly MTT Leaderboard will all receive a share of a $10,000 prize pool, which will be paid out as follows:
1st - $3,000
2nd - $1,500
3rd - $650
4th - $350
5th - $250
6th through 10th - $200
11th through 20th - $150
21st through 30th - $100
31st through 40th - $50
41st through 50th - $25
The top 100 players will also win a seat in the $20K leaderboard Monthly FreeRoll to be held on the first Sunday of the following month at 2pm ET. Top 3 Yearly MTT leaderboard winners will receive $5,000 - $10,000 cash prizes and $5,500 Aruba entries each.

SnG Heart Leaderboard winners
The SnG Heart Weekly and Monthly TLB competitions reward the top 10 players in the division with cash. In addition, the top 100 players on the Absolute Poker's monthly leaderboard win a seat in the $20K TLB Monthly FreeRoll on the second Sunday of the following month. Here is the breakdown of the Sit n Go cash prizes awarded to top 10 weekly and monthly winners:
1st place - $825 cash for weekly and monthly prizes
2nd place - $550 cash for weekly and monthly prizes
3rd place - $275 cash for weekly and monthly prize
4th to 10th - $165 cash for weekly and monthly prizes.
SnG Spade Leaderboard first place winners receive $1635 cash.



Your Way to WSOP
We've already qualified over 100 players for the WSOP, but we're far from done. Help us make history as we send a colossal contingent of AP representatives to Vegas. Log on today and take advantage of all our routes to Vegas:
STEPS: Turn 10 cents into your Main Event seat in 10 simple steps by playing our STEP Tournaments.
SATELLITE IN: Satellites start from as little as $10.
ROUTE 1: Get into the fast lane by buying your entry into our Sunday Super Satellite for $500 +$30. We're giving away at least one $12K WSOP* package every week! The game starts at 8:30 p.m. ET.
50-SEAT GUARANTEED EVENT TO THE WSOP*: Enter our 50-Seat Guaranteed event to the WSOP* on June 21st at 18:00 ET.
Source: Absolute Poker

$500 Welcome Bonus
Your first time? Make your first deposit and Absolute Poker will double the action with a 150% bonus worth up to $500. Click the link above to download free online poker software and use this bonus code: AP500

*World Series of Poker and WSOP are trademarks of Harrah's License Company, LLc ("Harrah's"). Harrah's does not sponsor or endorse, and is not associated or affiliated with, AbsolutePoker or its products, services, promotions or tournaments.


Related Poker Articles:
1. Play Poker In The Alps, Play To Party At The Playboy Mansion..

(27/01/2009)


2. Online Poker Room, PokerTime's Sit 'n Go Leaderboard Announces..

(01/10/2008)


3. Win Your WSOP 2009 Package In STEP And Satellite Tournaments..

(29/05/2009)


4. Vegas Poker Academy - Get Schooled In Vegas, Win Your Seat At..

(20/05/2009)


5. Doyles Room's Rake Sprint To Vegas Begins In Mid May. Win WSOP..

(18/05/2009)


6. FAME Update: Absolute Poker's Loyalty Program Becomes Even..

(07/04/2009)


All Absolute Poker Room's News

All WSOP 2009 Room's News