Doyles Room's Rake Sprint To Vegas Begins In Mid May. Win WSOP 2009 Seats.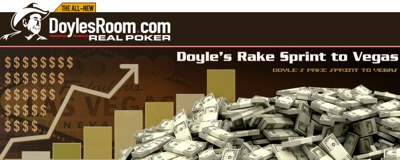 Doyle's Rake Sprint to Vegas From May 15th to June 15th, 2009
Doyle Brunson wants to see you in Vegas at this year's 40th Annual World Series of Poker. To get there, poker players need to play poker at Doyles Room starting this May. The top 5 players who generates the most rake will win a poker package that includes:
The first 5 online players to generate more than $5k/month in rake get a $1k cash bonus.
top players have a chance to win a 3-night VIP trip to Las Vegas for the World Series of Poker 2009, Dinner with Doyle Brunson, and exclusive invitation to the 40th Annual WSOP DoylesRoom party being held at the Wynn.
The first 10 of online players who each deposit and earn $500 in rake will get a 50% rebate to the monthly $250k Guarantee.
If any of the players generate more than $60k in the months of May and June Doyles Room will give them a $10k Main Event seat for free.
All you need to do to take part in these exciting (and exclusive) promotions - just download Doyles Room software and register a real account with the poker room. DoylesRoom welcomes players from most countries, including USA. New players can claim 110% welcome bonus up to $550 free on their first deposit. Doyles Room is a part of Cake Poker network.

COIN FLIP SERIES TO THE 2009 WSOP MAIN EVENT
DoylesRoom's new Coin Flip Series has dramatically blurred the line between playing poker and winning at poker. That's because 50% of the field in every Coin Flip tournament advances to the next event, all the way through to the DoylesRoom Main Event Satellite. With both tournament and heads-up feeders, it really is the most generous structure in the history of WSOP satellites and it's a great way to win a seat at this year's WSOP. See special WSOP 2009 page on the Doyles Room website for details.

Other poker rooms can give you a seat and a plane ticket, but only DoylesRoom can put you one on one with the Legend for the poker experience of a lifetime.
$10,000 Main Event Seat.
$3,000 cash for VIP travel and accommodations.
Private Strategy session with the #1 poker educator in the world, Mike "The Mad Genius" Caro.
Private dinner with Doyle and Team Brunson VIPs.
Full access at all Team Brunson and DoylesRoom Events.
Personally autographed Super System 1 and 2 leather bound two-book set.
Complete package of Team Brunson apparel and gifts.
2009 MAIN EVENT Satellites

Scheduled Tournaments Day/Time Buy-in Prize(s)
MAIN EVENT $13k FINAL!! 4:00pm ET Sunday $425+$30 $13,000 Prize Package
MAIN EVENT $13k SEMI-FINAL 1:00pm ET Sunday $70+$5 $455 seat in MAIN EVENT $13k FINAL!!
MAIN EVENT $13k Satellite - R&A Daily $20+$2 R&A $455 seat in MAIN EVENT $13k FINAL!!
MAIN EVENT $13k Semi-Qualifier - R&A Daily $5+$0.50 R&A $75 seat in MAIN EVENT $13k SEMI-FINAL
MAIN EVENT $13k Satellite - Gold Chip R&A Daily 10 Gold Chip R&A 5 seats in MAIN EVENT $13k FINAL!!
MAIN EVENT $13k Semi-Qualifier - Gold Chip R&A Daily 2 Gold Chip R&A 7 seats in MAIN EVENT $13k SEMI-FINAL

Sit'n Go Step Satellites Day/Time Buy-in Prize(s)
MAIN EVENT $13k Step 1 Running 24/7 $7.50 1st & 2nd = Step 2, 3rd = Step 1, 4th = $2.50
MAIN EVENT $13k Step 2 Running 24/7 $30 1st & 2nd = Step 3, 3rd & 4th = Step 2, 5th = $2.00
MAIN EVENT $13k Step 3 Running 24/7 $110 1st & 2nd = MAIN EVENT $13k FINAL, 3rd = Step 3, 4th = Step 2


Related Poker Articles:
1. ECOOP IV, EPT San Remo And More Ongoing Promotions At Titan..

(05/04/2009)


2. 2 Great Valentine's Day Promotions At Doyles Room This Weekend

(14/02/2009)


3. Top British Poker Players Look to Dominate the World Series of..

(15/06/2005)


4. Lou Krieger is filming Vegas Virgins TV show

(03/04/2005)


5. The Biggest Celebrity Lineup In Doyle's Bounty History Is..

(02/04/2009)


6. Kevin Connolly Joins Doyle And Mike In $25,000 Bounty..

(23/02/2009)


All WSOP 2009 Room's News