Rules & Strategies








Poker News: Jackie Johnson, Gary Suffir, Love Story, Party Poker
March 9, 2006.
A True Poker Love Story: Couple Meet Online And Go All-In For Life.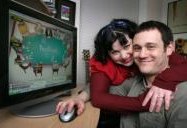 Online poker becoming one of the Internet's largest social networks and it was only a matter of time before someone got married after meeting over a game. PartyPoker.com is delighted to announce what we believe to be the world's first marriage where the couple met playing online hold'em poker.

On March 7, 2006 Gary Suffir, a 28-year-old New York attorney wed 27-year-old Las Vegas artist Jackie Johnson at the Paris Hotel in Las Vegas, Nevada. The happy couple met in September, 2004 playing poker at the world's largest poker room - Party Poker. Naturally, the wedding has a poker theme and then the couple will embark for their honeymoon on the PartyPoker.com Million V Cruise around the Cayman Islands and Jamaica, starting on the March 12th, along with over 450 other poker players.

It all started on the turn of a card. "I first met Gary online at PartyPoker.com in September, 2004," says Jackie. "We were both playing in a $30 Omaha Hi-Lo game, and I was very much a beginner to this version of the game. Gary made what I considered to be a good play but got nailed by a bad beat on the river. The guy who won the hand started trashing Gary. I supported Gary in the argument and the rest, as they say, is history."

After a few days of constant communication using the PartyPoker.com 'buddy' feature and then instant messenger, Jackie and Gary discovered they shared the same taste in music, as well as poker. Gary and Jackie continued to compete in the same multi-table tournaments and three months later they exchanged photographs. Finally, in January 2005, Gary went to Las Vegas and met Jackie. What began as a one-day meeting of online friends soon stretched to a week, although initially they were both hesitant to admit how strongly they felt about each other.

By March 2005 - six weeks after their first meeting - Jackie moved to New York City to live with Gary and they had their first kiss. In August, Gary got down on one knee and proposed, complete with a ring and yellow roses and daisies. "I was delighted she said yes," Gary said. " We agreed we'd get married in Vegas to try and recreate that great week we had when we first met in January."

Party Poker spokesman Warren Lush said: "We were delighted when Gary and Jackie called to tell us that they were going all-in for life. It took us a while to believe that they weren't bluffing! They're having a full-on poker wedding in Vegas and are even having an online tournament for wedding guests a couple of weeks before the big day. We look forward to welcoming them on to the PartyPoker.com Million V for their honeymoon where company spokesman and leading poker ambassador Mike Sexton will toast their future happiness."

The couple are looking forward to their honeymoon where they'll compete for millions of dollars in PartyPoker.com Million V prize money. "We both play hyper aggressive," said Gary, who plays under the name 'I_like_birds' on the net. Jackie plays as 'Supplanter'.

Party Poker spokesman Warren Lush added: "Since hearing about Gary and Jackie, we've now done a deal with LavaLife for some private poker dating tables. Perhaps we should think about creating our own online dating site!"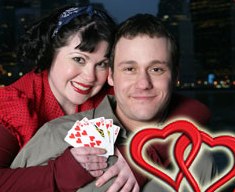 Source: Party Poker


Related Poker Articles:
1. Win Your Seat At World Series Of Poker 2006 Playing Party.. (05/03/2006)
2. Learn To Win With New Party Poker Trainer In New Software.. (28/02/2006)
3. Take Part In Party Poker's Canadian Poker Championship With.. (29/12/2005)
4. Maryland Pet Store Owner Bruce Bartfeld Gets Assist From Cat To.. (21/12/2005)
5. Player 'Altonham' From Illinois Won Porsche 911 At Party Poker.. (23/09/2005)

Online Poker News >>> March 2006 Poker News

All Party Poker Room's News



Tournaments | Texas Hold'em Strategy | Hold'em Lessons