Rules & Strategies








Poker News: Poker Trainer, Software, Party Poker
January 10, 2007.
Learn To Win With 'Poker Trainer' At Party Poker.
Sharpen your poker skills for the real deal! Party Poker added a brand new 'Poker Trainer' to its free software. Play against the computer while you learn the game. Remember: A good poker player never stops learning. That's why Party Poker has developed its Poker Trainer to help improve your game, whatever your skill level.

The Poker Trainer runs on the regular PartyPoker software and allows you to practice against computer-generated players in a play money (practice mode) Texas Hold'em game.

Playing tips
You can play against up to 9 other poker players. Choose how many you want at the table, select either the beginner, intermediate, or advanced level, then take a seat and deal a hand of Hold'em. The Poker Trainer will advise you on the best moves to make as you play:
The hand evaluator will give both your percentage chance of winning and the pot odds
The advisor feature provides a handy pie chart to help you figure out when to fold, call, or raise
The session stats show how you performed, including how many hands you won and how much money you earned
The Poker Trainer even lets you play your last hand again, so you can learn from your mistakes.

First-class software
The Poker Trainer is powered by Poker Academy, the most advanced training software on the web. Poker Academy is the result of over 10 years of research into artificial intelligence by four professors from the University of Alberta. If you want to win, you've got to be in peak poker condition. Use the PartyPoker's Poker Trainer and you'll get the ultimate workout.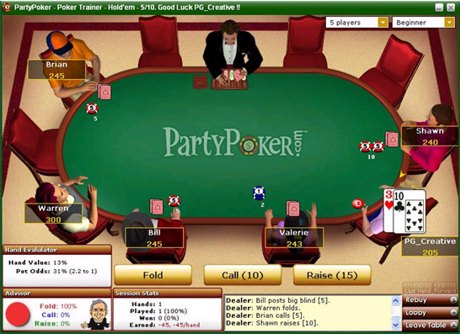 Source: Party Poker


Related Poker Articles:
1. Learn To Win With New Party Poker Trainer In New Software.. (28/02/2006)
2. World Poker Tour for PSP Delivers Authentic Poker Experience.. (17/01/2006)
3. English Harbour UK have introduced its newest software release (06/10/2004)
4. WPT Enterprises Signs Multi-Year Sponsorship Agreement With.. (07/12/2006)
5. Sebastian Wins In The PartyPoker's German Open In London (24/10/2006)
6. Snooker Emperor Buys New Clothes And Pockets PartyPoker's.. (10/10/2006)

Online Poker News >>> January 2007 Poker News

All Party Poker Room's News



Tournaments | Texas Hold'em Strategy | Hold'em Lessons