Win Swedish Poker Open Championship Seats At SunPoker Room.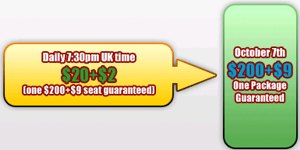 SunPoker is proud to announce that they will be running online qualifiers to the 2007 Swedish Poker Open championships, a $7,000 prize package. $20+$2 daily qualifiers will begin tomorrow with guaranteed seats to the $200+$9 final. The winner of the final event will take the $7K Swedish Poker Open prize package.

Don't miss out; the final takes place October 7th. Qualify daily for as little as $22. Remember: Prize Package Value $7,000 ($6,200 Buy-in + $800 Spending Money).

Swedish Poker Championship
The tournament will be held in Casino Cosmopol Stockholm, October 15th - 21st 2007. Main Event Buy-in is 41,000 SEK = $6,200.

SunPoker is also proud to announce that they recently acquired a gaming license in Malta, making SunPoker a EU gaming friendly site. No taxes on winnings :)

EPT and WPT Qualifiers at SunPoker for as little as €1.70
Qualify at SunPoker room for your chance to compete in WPT or EPT events of your choice all over the world! Qualifiers start for as little a €1.70 daily.

European Poker Tour (EPT) Upcoming Events:
Baden Classic - Oct 7-10th, 2007
Dublin - Oct 30th-Nov 3rd, 2007
German Open - Jan 29th-Feb 2nd, 2008
Prague - TBA
Scandinavian Open - Feb 19-23rd
Polish Open - March 11-15th, 2007
EPT Grand Final - April 12-17th, 2008
WPT Events
WPT Spanish Championship - Oct 12-16th 2007
North American Poker Championship - Oct 26-Nov 2nd 2007
$1,000 welcome bonus at SunPoker
SunPoker is offering one of the largest in the industry $1,000 sign-up bonus to their players. This is a very attracting bonus for new players who has never played at Sun Poker room AND for existing players as well. Players have 4 different options to choose from (only one option available each month):
1. $200 deposit bonus / 100% match up to $200 (Enter bonus code OCT200)
2. $500 deposit bonus (Enter bonus code OCT200, click Apply, then enter Bonus Code OCT300)
3. $1,000 deposit bonus (Enter 3 bonus codes consequently: OCT200, OCT300 and OCT500)
4. $500 no deposit bonus (Enter bonus code OCTND500).
Source: SunPoker
Related Poker Articles:
1. Borgata Poker Open Tournament In On The Middle Stage - See..

(12/09/2006)



2. WPT's Borgata Poker Open Tournament - Official Results

(11/09/2006)



3. Forget Russian Roulette - Play Russian Poker At St. Petersburg..

(05/04/2006)



4. Cadillac Escalade Awarded In Addition To Prize Pool At Borgata..

(26/01/2006)



5. North Carolina Man Cleans Up At Borgata Winter Poker Open

(24/01/2006)



6. Poker Perfection At Borgata Winter Poker Open Event Two

(23/01/2006)



All Caribbean Sun Room's News