2007 DAILY ONLINE POKER NEWS
October Casino Poker News:

October 22, 2007. Are You A Donkey? Then Get Your Entry Into A Big Guaranteed Absolute Poker Tourney. Your poker buddies tease you. Your tablemates berate you. You are, at least according to them, the epitome of a donkey. But today, the joke is on your so-called pals. Now, playing like a donkey can net you an entry into one of Absolute Poker room's big tournaments. Intrigued? Discover Top 5 Donkey list on the Absolute Poker website..

October 18, 2007. Foxwoods World Poker Finals And More Tournaments In WPT Season VI Schedule.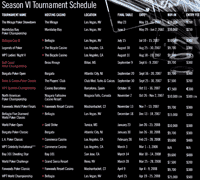 Foxwoods World Poker Finals will be held on Nov 7 - Nov 13, 2007. Although Day 1 of the Foxwoods World Poker Finals is Wednesday November 7, 2007, previous records indicate a November 8 start for this event. The tournament has a Buy-In of $9,700 and an Entry Fee of $300. Registration will be held in the Poker Room at Foxwoods Resort casino, Mashantucket, Connecticut. Another great event in 2007 is Bellagio Five Diamond World Poker Classic tournament to be held on 12/13/07 - 12/18/07 at Bellagio Casino. See the complete WPT schedule on the image (click to enlarge).

October 17, 2007. Full Tilt Poker's FTOPS VI And Other Tournaments Are On The Way. Full Tilt Poker's FTOPS V was a tremendous success, exceeding its $7 million guarantee by awarding over $10.5 million in prizes and generating a field of almost 25,000 participants. FTOPS VI is almost here, and it promises to be even bigger and better, which is why now is the time to join FTOPS VI. Cash guarantees aren't the only..

October 15, 2007. Absolute Dream Package Winner And Other Promotions At Absolute Poker. BRAND NEW DREAM PACKAGE What does it feel like to strike gold? Just ask Absolute Poker player MCBILL, a Montana resident who conquered 572 other poker players to take down the Absolute Dream Package final event last Sunday. For his victory, MCBILL has secured a prize package that grants him access to over $100 million in poker..

October 12, 2007. $2.5 Million ECOOP And Other Titan Poker Promotions. We would like to recommend you Titan Poker's four outstanding new promotions for October. Win seats to the poker events or share in million dollar pools of online poker championships in limit and NL Texas Hold 'em and Omaha. ECOOP $2.500,000 Prize Pool Titan Poker is proud to announce its FIRST EVER online poker series! Check out..

October 5, 2007. $409,912 Bad Beat Jackpot Has Been Hit By Absolute Poker Player PINPIN888. Absolute Poker's $409,912.66 Bad Beat Jackpot has been hit today. Congratulations to player PINPIN888 on turning a losing poker hand into instant riches. Another BIG Bad Beat has been hit by BOKKIS who pocketed $137,523.20 on August 6th. Take a seat at a Bad Beat Jackpot table now, you could be the next BIG winner. The jackpot are..

October 3, 2007. Win Swedish Poker Open Championship Seats At SunPoker Room. SunPoker is proud to announce that they will be running online qualifiers to the 2007 Swedish Poker Open championships, a $7,000 prize package. $20+$2 daily qualifiers will begin tomorrow with guaranteed seats to the $200+$9 final. The winner of the final event will take the $7K Swedish Poker Open prize package. Don't miss out; the..


Previous Monthly Poker News:
Sep '07 Aug '07 Jul '07 Jun '07 May '07 Apr '07 Mar '07

All Online Poker News & Articles