The Genius Promotions At Party Poker Awards Extra Cash On Every 50,000th Hand.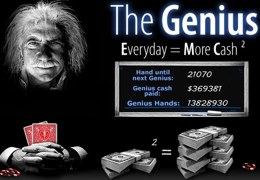 The genius has just got even bigger and better and will now run for 15 million hands with increased minimum jackpot payouts of $250! The experts at Party Poker have tapped into the brilliance of the finest scientific minds around to formulate a new promotion that's absolute genius.
Starting on Monday, 6th July, Party Poker squares the pot of every 50,000th hand that's played on Party's cash tables to create some mind-blowing jackpots, from a minimum of $250 up to staggering $5,000. Better still, everyone involved in the hand will get an equal share of the payout, while the winner will also take the original pot.
That's not all. Every millionth hand during The Genius will have a guaranteed $10,000 prize pool and the final 15 millionth hand will be worth a guaranteed $50,000! The 10 millionth hand of the promotion will be worth an astounding guaranteed $100,000. All the players dealt into these special Genius hands will share these fantastic cash prizes.
The Party Poker promotion runs for 15 million hands, counted from 12:00 ET on Monday, 6th July. There are already several winners. Here's how the promotion works:
If a Genius hand hits on a table where the pot stands at $70, Party Poker will square it to give all the players an equal share of $4,900: $70 x $70 = $4,900
If a genius hand hits on a table where the pot stands at $30, Party Poker will square it to give all the players an equal share of $900: 30 x 30 = $900
If a genius hand hits on a table where the pot stands at $10, Party Poker will give all the players an equal share of $250 (the minimum Genius jackpot)
You don't have to be a poker professor to make the most of The Genius. Just take your seat and play online at Party Poker room.

Other terms and conditions
The Genius will only apply to cash-game tables from 10c/25c and above, including limit (25c/50c minimum stake on limit), no-limit and pot-limit Hold'em, pot-limit Omaha and 7 Card Stud. The Genius will apply to jackpot tables (will not apply on any heads-up tables).

$500 Welcome Bonus
All new players at Party Poker are eligible for the special 100% match sign-up bonus up to $500 free on their first deposit. Download and play.


Related Poker Articles:
1. Headhunter Challenge, CPC 2007 Satellites, Freerolls And Other..

(05/09/2007)


2. Up To 40% Official Rake-Back At Party Poker - PartyPoints Are..

(14/06/2009)


3. The Million-Dollar Hand Promotion Is Back At Party Poker This..

(06/06/2009)


4. Doyles Room Bad Beat Jackpot Starts The Year Nearing Record..

(05/01/2009)


5. Release Conditions For Super Sign up Bonus At Party Poker Were..

(13/12/2008)


6. Big Names Line-Up For The First Major Tournament In Europe In..

(11/12/2008)


All Party Poker Room's News