Valentine's Day Specials And Other Promos And Tournaments At Absolute Poker.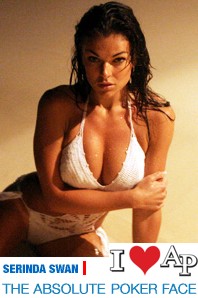 Enjoy a little action at Absolute Poker and the room willl help you get some on Valentine's Day! To celebrate the annual love fest that is Valentine's Day, the Absolute Rewards Store is stuffed with red roses, scent, and bling.
Everything the online poker player needs to unruffle the feathers and guarantee a little hassle-free time at the tables. Protect your poker pass and stay out of the doghouse with Absolute Poker on February 14.
Play Poker with a model - Sundays with Serinda
Every Sunday - 2pm to 4pm ET

Meet Serinda Swan, the new face of Absolute Poker. This 22-year-old model from Vancouver, Canada has already made some serious waves in the fashion industry. And now, she's making a huge splash in the online poker world.

This year, Serinda will be featured in Absolute Poker TV commercials, print campaigns and on our website - quickly turning Absolute Poker into the best-looking online poker site on the planet.

You'll be seeing even more of Serinda in 2007. Having just won a GUESS Watches model search contest, Serinda will be featured in the Guess Watches holiday campaign.

When it comes to playing her cards right, Serinda Swan is a force to be reckoned with at the online poker tables. Don't be fooled by her good looks and background in modeling.

Don't believe us? Play online poker with Serinda every Sunday at Absolute Poker and find out how good this poker temptress really is. Look for the 1/2 no limit 'Serinda Swan' table between 2pm and 4pm ET every Sunday.
Dream ON - Last Call
Don't miss out. There are only a few days remaining before the 7th Absolute Poker Dream Package tournament tees off.

If you've already reserved your seat - good luck. If not - what are you waiting for? The biggest prize in online poker is up for grabs and all you have to do is play at Absolute Poker.
TOUCHDOWN
It's may be the Giants vs. Patriots at Super Bowl XLII this weekend, but at Absolute Poker it was Cleveland Browns team player SINGING FOOL who took down the top prize of a pair of tickets to the big game.

Congratulations and enjoy the game!
SUPERSIZED ACTION
Don't forget: this Saturday the action gets SUPERSIZED. It's Super Saturday at Absolute Poker and that means there's a MONSTER $325K to play for. DON'T MISS OUT! Source: Absolute Poker


Related Poker Articles:
1. 100% Sign-Up Bonus Up To $500, Freerolls And Tournaments At..

(25/01/2008)


2. Juha Santa Series of Poker Tournaments At InterPoker With..

(25/12/2007)


3. Win Swedish Poker Open Championship Seats At SunPoker Room

(03/10/2007)


4. New Iron Man Challenge Features At Full Tilt Poker - Daily..

(12/09/2007)


5. Current Promotions And FTOPS V Tournament At Full Tilt Poker..

(17/07/2007)


6. Increased Popularity And Increased Guaranteed Tournaments Prize..

(13/07/2007)


All Absolute Poker Room's News