Rules & Strategies









WSOP 2006 REPORTS: POKER ARTICLES & NEWS
WSOP 2006 Related Articles From The Daily Online Poker News: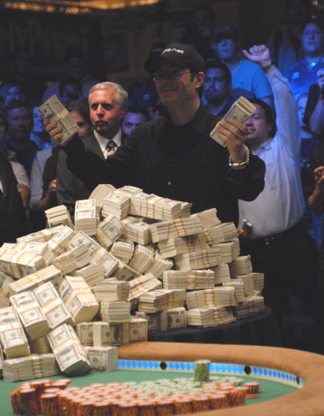 1. Jamie Gold Wins 2006 WSOP Main Event, Gold Bracelet And $12,000,000 First Prize (11/08/2006) Main Event Of The World Series Of Poker - Reports and Results. Friday, August 11. Time: 03:07:00 PDT 2006. Michael Binger Eliminated in third; he won $4,123,310. 228. Jamie Gold raises to $1,000,000 from the small blind and Paul Wasicka calls from the big blind. The flop comes J65 and Gold checks. Wasicka bets $1,000,000 and Gold calls. The turn is the Q and both players check. The river..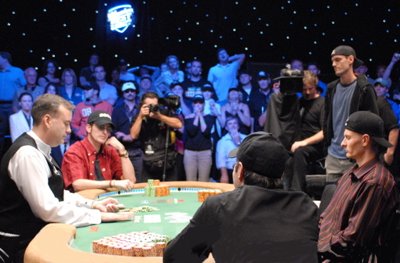 2. Final Table Set At World Series Of Poker Main Event - Nine Players Left (09/08/2006) Official Results and Chip Counts from the 2006 World Series of Poker. Main Event (#39): No-Limit Texas Hold'em. The quest for poker's crown jewel and the richest prize in live poker history is down to nine players at the 37th annual World Series of Poker presented by Milwaukee's Best Light. Nine players will gather at the Rio All-Suite Hotel & Casino tomorrow at 2 p.m. to take their seats at poker's..



3. No-Limit Hold'em World Championship - Main Event Of The 2006 WSOP Results And Chip Counts (06/08/2006) Main Event 39: No-Limit Texas Hold'em with Buy-in of $10,000. Results and Chip Counts. Day 4 of the 2006 World Series of Poker Main Event has finished. 135 players remain and play will resume tomorrow at 12:00 p.m. PDT. Tomorrow the payouts will begin to increase more dramatically and we're at the breaking point of an exponential curve. Today's cheep leaders are: RANK PLAYER CHIP COUNTS..

4. World Series Of Poker Main Event (39) Winner To Receive $12 Million; 12 To Win At Least $1 Million - See Payout Schedule (02/08/2006) Reports from the 2006 World Series of Poker. Main Event: No-Limit Texas Hold'em with Buy-in of $10,000. The winner of the $10,000 No-Limit Texas Hold'em World Championship at the 37th annual World Series of Poker presented by..

5. Absolute Poker at the WSOP 2006; Luxury vehicles to be given away; VIP party in the works and of course lots of Absolute Poker give-aways! (01/08/2006) (SAN JOSE, Costa Rica) Absolute Poker, the 4th largest online poker web-site in the world, is putting on a good show at this year's World Series of Poker event in Las Vegas. Absolute Poker pros Brandon Cantu and Justin Scott have..

6. Event 36: Limit Hold'em Shootout. Victor Perches Wins His First WSOP Gold Bracelet (30/07/2006) Official Results and Report from the 2006 World Series of Poker. Event 36: Limit Hold'em Shootout with Buy-in of $1,500. Victoriano Perches came to this country as many good people do - to seek a better life. The native of..

7. Event 34: No-Limit Hold'em With Rebuys. Phil Hellmuth, Jr. Makes Poker History With Record-Tying Tenth Gold Bracelet (29/07/2006) Official Results and Report from the 2006 World Series of Poker. Event 34: No-Limit Hold'em With Rebuys, Buy-in of $5,000. After much anticipation, patience and a knack for knowing when he is on top of his game, Phil Hellmuth..

8. Event 33: Seven Card Razz World Championship. 15 Years After Making His First WSOP Final Table Appearance, James Richburg Defeats Carlos Mortensen In Heads-up Play (28/07/2006) Official Results and Report from the 2006 World Series of Poker. Event 33: Seven-Card Razz with Buy-in of $1,500. Seven-Card Razz has developed a bad reputation. It's the proverbial step-child of poker games. While the rest of..

9. Event 32: Pot-Limit Hold'em. Jason Lester Finally Wins A WSOP Gold Bracelet And $550K First Prize (27/07/2006) Official Results and Report from the 2006 World Series of Poker. Event 32: Pot-Limit Hold'em with Buy-in of $5,000. When Jason Lester walks into any poker room, everyone seems to recognize him. He's been playing in poker..

10. Event 31: No-Limit Hold 'Em. Detroit Poker Player Justin Scott Wins Gold Bracelet And $842,262 (26/07/2006) Official Results and Report from the 2006 World Series of Poker. Event 31: No-Limit Hold'em with Buy-in of $2,000. Justin Scott flew into Las Vegas and promptly lost his entire bankroll at a baccarat table. This would not be an..

11. Event 30: Short-handed No-Limit Hold'em. 21-Year Old Jeff Madsen Wins Gold Bracelet Number Two (25/07/2006) Official Results and Report from the 2006 World Series of Poker. Event 30: Short-Handed No-Limit Hold'em with Buy-in of $5,000. The unthinkable happened on July 22, 2006 when 21-year-old Jeff Madsen won his second gold bracelet..

12. Harry Demetriou Goes Out From The $2,000 No Limit Hold'em Event At 2006 WSOP (24/07/2006) Harry Demetriou, one of the leading World Series of Poker (WSOP) players, was ejected screaming and shouting from an event last Sunday due to an apparent conflict over the rules. Harry was removed from the $2,000 No Limit Hold'em..

13. Event 29: Pot-Limit Hold'em. Gentleman John Gale Wins A WSOP Gold Bracelet. After Losing Pot-Limit Championship In 2005, Gracious Englishman Comes Back And Earns Hard-Fought Victory (24/07/2006) Official Results and Report from the 2006 World Series of Poker. Event 29: Pot-Limit Hold'em with Buy-in of $2,500. The real test of character is not watching someone during a time of celebration. Rather, it is watching someone..

14. Event 28: Seven-Card Stud. Maryland Accountant Benjamin Lin Wins His First-Ever WSOP Gold Bracelet (23/07/2006) Official Results and Report from the 2006 World Series of Poker. Event 28: Seven-Card Stud with Buy-in of $5,000. When play at the final table of the $5,000 buy-in Seven-Card Stud championship became three-handed, a few..

15. Event 27: No-Limit Hold'em. Swedish Poker Pro Mats Rahmn Wins His First WSOP Gold Bracelet; Three Europeans Dominate No-limit Hold'em Final Table (22/07/2006) Official Results and Report from the 2006 World Series of Poker. Event 27: No-Limit Hold'em with Buy-in of $1,5000. Many people might be surprised to learn that Scandinavia is one of poker's hottest new markets. Perhaps it's the..

16. Event 26 (B): Pot-Limit Omaha (With Rebuys). 22-year-old Poker Pro Eric Froehlich Becomes The Youngest Two-Time WSOP Winner In History (21/07/2006) Official Results and Report from the 2006 World Series of Poker. Event 26 (B): Pot-Limit Omaha with Re-Buys. Move over Phil Ivey. Move over Daniel Negreanu. Move over Allen Cunningham. There's a new kid in town. Eric Froehlich..

17. Event 26 (A): Pot-Limit Omaha. Ralph Perry Wins His First WSOP Gold Bracelet Four Years After Finishing Third in the 2002 Championship Event (21/07/2006) Official Results and Report from the 2006 World Series of Poker. Event 26 (A): Pot-Limit Omaha with Buy-in of $1,500. "The Butterfly Effect" is common expression which explains the unbreakable connection between all earthly..

18. Event 23: Limit Hold'em Poker. Turning A Toothpick Into a Lumberyard - Ian Johns Wins Limit Hold'em WSOP Championship (19/07/2006) Official Results and Report from the 2006 World Series of Poker Event 23: Limit Hold'em Buy-In: $3,000 Rio All-Suites Hotel and Casino, Las Vegas One of poker's classic quips came from "Amarillo Slim" Preston back during the 1970s...

19. Event 25: No-Limit Hold'em Shootout. David "Dragon" Pham Wins His Second WSOP Gold Bracelet (19/07/2006) Official Results and Report from the 2006 World Series of Poker Event 25: No-Limit Hold'em Shootout Bui-in: $2,000 If America is the "land of opportunity", then poker is the amphitheater for fast-track success. The green felt..

20. Event 24: Omaha High-Low Split. Washington State Poker Player Scott Clements Demolishes All-Star Final Table And Wins $301,175 (19/07/2006) Official Results and Report from the 2006 World Series of Poker. Event 24: Omaha High-Low Split. Scott Clements understands Las Vegas. He knows of the various vices and distractions the gambling Mecca presents to visitors. When..

21. Event 22: No Limit Hold'em. A Summer Job That Pays $20,000 An Hour; 21 y.o. Jeff Madsen Becomes The Youngest Winner In WSOP History (18/07/2006) Official Results and Report from the 2006 World Series of Poker Event 22: No-Limit Hold'em Buy-In: $2,000 Rio All-Suites Hotel and Casino, Las Vegas For the third consecutive year, the record for youngest World Series of Poker..

22. Event 21: Short-Handed World Poker Championship - Six-Handed No-Limit Hold'em; Bill Chen Wins Second WSOP Gold Bracelet This Week (17/07/2006) Official Results and Report from the 2006 World Series of Poker Event 21: Short-Handed World Poker Championship Six-Handed No-Limit Hold'em Rio All-Suites Hotel and Casino, Las Vegas It's a peculiar thing that our culture gives..

23. Event 20: WSOP 2006 H.O.R.S.E. Event's Results - Poker Legend Chip Reese Outlasts The Competition And Wins $1,784,640 (16/07/2006) Official Results and Report from the 2006 World Series of Poker Event 20: H.O.R.S.E. World Poker Championship Rotation of Games: Limit Hold'em, Omaha High-Low Split, Razz, Seven-Card Stud, Eight-or-Bettor, No-Limit Hold'em Rio..

24. Event 19: Seniors World Poker Championship - No Limit-Hold'em. 61-Year-Old Clare Miller Wins Seniors World Poker Championship In Las Vegas (15/07/2006) Official Results and Report from the 2006 World Series of Poker Event 19: Seniors World Poker Championship, No-Limit Hold'em Rio All-Suites Hotel and Casino, Las Vegas There was a point very late in the 2006 Seniors World Poker..

25. H.O.R.S.E. Tournament, Event 20 At The World Series Of Poker 2006 (15/07/2006) 3 day, $50,000 buy-in, H.O.R.S.E. (Hold'em Omaha Razz Stud Eights or Better) Tournament is new and very prestigious event on WSOP 2006 that will determine the true World Champion of poker. It's one of the most interesting of the..

26. Event 18: Pot-Limit Hold'em. Former Attorney Eric Kesselman Wins WSOP Pot-Limit Hold'em Championship (14/07/2006) Official Results and Report from the 2006 World Series of Poker Event 18: Pot-Limit Hold'em Buy-in: $2,000 Life is full of tough decisions. Success depends on the decisions that we make. Those who make wise decisions are typically..

27. Event 17: No-Limit Hold'em. Jon Friedberg Pulls Off Stunning Upset Victory Winning Over Half-a-Million On 2006 WSOP (13/07/2006) Official Results and Report from the 2006 World Series of Poker Event 17: No-Limit Hold'em Buy-in: $1,000 Rio All-Suites Hotel and Casino, Las Vegas Janis Joplin once sang, "freedom is just another word for – nothing left to..

28. Event 16: Pot-Limit Omaha. Tournament Poker Journeyman Lee Watkinson Wins His First WSOP Gold Bracelet And $655,746 (12/07/2006) Official Results and Report from the 2006 World Series of Poker. Event 16: Pot-Limit Omaha. Buy-In: $10,000. In spiritual circles, St. Francis of Assisi is best known as the patron saint of all animals. St. Francis was a 13th..

29. Event 15: Ladies World Poker Championship - No-Limit Hold'em. Mary Jones Meyer Wins 2006 Ladies World Poker Championship And $236,094 (11/07/2006) Official Results and Report from the 2006 World Series of Poker. Event 15: Ladies World Poker Championship, No-Limit Hold'em. 2005 WSOP Champion: Jennifer Tilly. All good people inevitably come to realize that there is more joy..

30. Event 14: No Limit Hold'em With Re-Buys. Allen Cunningham Wins Fourth WSOP Gold Bracelet, Second in Two Years (11/07/2006) Official Results and Report from the 2006 World Series of Poker. Event 14: No-Limit Hold'em with Re-Buys. 2005 WSOP Champion: Maciek Gracz. The loudest poker personalities may get the fame, but the most skilled players get the..

31. Event 13: No Limit-Hold'em. Max 'The Italian Pirate' Pescatori Wins First-Eve WSOP Gold Bracelet (11/07/2006) Official Results and Report from the 2006 World Series of Poker. Event 13: No-Limit Hold'em. 2005 WSOP Champion: Farzad Bonyadi. Gooooooooooooooooal! When Italian soccer star Fabio Grosso smashed the winning kick past French..

32. Event 12: Omaha High-Low. High-Stakes Poker Pro Sammy Farha Wins $398,560 And Second Gold Bracelet In Omaha High-Low Championship (09/07/2006) Official Results and Report from the 2006 World Series of Poker. Event 12: Omaha High-Low with Buy-in of $5,000. 2005 WSOP Champion: David Chiu. There is no one in the poker world quite like Sammy Farha. Dashing and debonair..

33. Event 9: No-Limit Hold'em. The Doors of Perception - Jeff Cabinillas Makes Poker History Beating Phil Helmuth And Winning Gold Bracelet (08/07/2006) Official Results and Report from the 2006 World Series of Poker. Event 9: No-Limit Hold'em with Buy-in of $5,000. 2005 WSOP Champion: T.J. Cloutier. When Jeff Cabanillas first strolled through the doors of the mammoth Rio..

34. Event 10: Seven-Card Stud. 2004 Main Event Runner-up David Williams Wins His First WSOP Gold Bracelet (08/07/2006) Official Results and Report from the 2006 World Series of Poker. Event 10: Seven-Card Stud with Buy-in of $1,500. 2005 WSOP Champion: Cliff Josephy. Aside from the multi-million dollar financial boon of a second-place finish..

35. Event 8: Omaha High-Low Split. It's A Golden Night For Jack 'Action' Zwerner Who Won Top Prize Of $341,426 (07/07/2006) Official Results and Report from the 2006 World Series of Poker. Event 8: Omaha High-Low Split with Buy-in of $2,000. 2005 WSOP Champion: Pat Poels. There aren't many things that Jack "Action" Zwerner hasn't seen and done in..

36. Event 7: Limit Hold'em. Bill Chen + Limit Hold'em = Gold Bracelet. Mathematics Whiz/Game Theorist Barges To Victory (06/07/2006) Official Results and Report from the 2006 World Series of Poker. Event 7: Limit Hold'em with Buy-in of $3,000. 2005 WSOP Champion: Todd Witteles. "Mathematics" is properly defined as the study of the measurement, properties..

37. Event 6: No-Limit Hold'em. Aussie, Aussie, Aussie (Redux) - Australian Poker Pro Mark Vos Wins $803,274 Outperforming Two Thousands Players (05/07/2006) Official Results and Report from the 2006 World Series of Poker. Event 6: No-Limit Hold'em with Buy-in of $2,000. 2005 WSOP Champion: Erik Seidel. Mark Vos has a plan. And, despite winning over three-quarters of a million..

38. Event 5: Short-handed No Limit Hold'em. The Thrill Of Victory And The Agony Of Defeat - Russ Boyd Beats Joseph Hachem And Wins $475,712 (04/07/2006) Official Results and Report from the 2006 World Series of Poker. Event 5: Short-handed No Limit Hold'em. Rio All-Suites Hotel and Casino - Las Vegas. Russ "Dutch" Boyd Shutters WSOP Champ Joe Hachem's Bid for Bracelet Number..

39. Event 4: Limit Hold'em. Kianoush Abolfathi Wins 1st WSOP Gold Bracelet (03/07/2006) Official Results and Report from the 2006 World Series of Poker. Event 4: Limit Hold'em with Buy-in of $1,500. Once upon a time there was a poker game called "Limit Hold'em." It was the most popular game in the land. Everywhere..

40. Pure Gold: Phil Helmuth First Player In History To Reach 50 'Cashes' At WSOP (01/07/2006) Phil Hellmuth, Jr. is the greatest poker player in the world. And if you don't believe it, just ask him. Hellmuth reached a new milestone today when he became the first player in World Series of Poker history to reach "50"..

41. Event 3: Pot Limit Hold'em. Hight-Tech Wiz Rafe Furst Wins First WSOP Gold Bracelet (01/07/2006) Official Results and Report from the 2006 World Series of Poker. Event 3: Pot Limit Hold'em with Buy-in of $1,500. 2005 WSOP Champion: Thomas Werthmann. There are exceptionally rare instances when both the poker tournament and..

42. 2006 World Series of Poker Opens with Second-Biggest Live Poker Tournament in History! (29/06/2006) The 2006 World Series of Poker opened with a bang. The world's largest and most prestigious poker spectacle began with the first open event on the schedule – the $1,500 buy-in no-limit hold'em competition. A record 2,776 players..

43. Event 1: 2006 Casino Employees World Championship - Caesars Palace Dealer Chris Gros Wins First-Prize (28/06/2006) Official Results and Report from the 2006 World Series of Poker. Event 1: Casino Employees World Championship, No-Limit Hold'em. On most days and nights, players in the "Casino Employees World Poker Championship" can be found..

44. The 2006 Tournament of Champions Day 1 - The Wild Bunch (27/06/2006) Day 1 of the exclusive, invitation only tournament played out in the Rio's Amazon Room, the massive space that will soon be the site of the World Series of Poker, and featured an eclectic starting field. Of the twenty-seven players..

45. Official Report From 2006 Tournament Of Champions. As final table begins, Irishman Andrew Black is the chip leader, Daniel Negreanu a distant second, eight more round-out the field. (26/06/2006) The third annual Tournament of Champions kicked off today at the Rio All-Suites Hotel and Casino in Las Vegas. The TOC is a one-of-a-kind freeroll competition consisting of the top World Series of Poker and WSOP Circuit players of..


Other Poker Rooms News:
Party Poker Absolute Poker Gaming Club Royal Vegas Caribbean Sun Prima Poker InterPoker Golden Tiger Noble Poker Seven Sultans Titan Poker Ultimate Bet Poker Rewards Full Tilt Poker WSOP 2007 WSOP 2008 WSOP 2009 2010 WSOP

All Daily Online Poker News



Tournaments | Texas Hold'em Strategy | Hold'em Lessons | Poker Winners