Marianela To Join WPT Cast While Kimberly Lansing Takes Maternity Leave.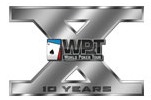 World Poker Tour is pleased to announce that Marianela Pereyra will preside as new WPT Anchor while Kimberly Lansing takes maternity leave. When interviewing for the distinguished role, Marianela set herself apart with her endless enthusiasm, quick wit and extensive poker knowledge. Marianela will first join WPT Commentators Mike Sexton and Vince Van Patten, the Royal Flush Girls and the entire WPT team for the televised WPT Venice event running February 6-11, 2012.

"The innovative position of WPT Anchor is integral to the World Poker Tour, and Kimberly Lansing has done a fantastic job establishing this role," said WPT President Adam Pliska. "Marianela has impressive experience in the poker community and we know she'll fit right in with the WPT family."

A passionate fan of poker and its players, Marianela hosted NBC's Poker After Dark and has covered various events for ESPN, CBS Sports and FOX Sports in addition to serving as VJ for the music channel FUSE TV. Well-known for her charismatic personality and sense of humor, Marianela will be a welcomed addition to the World Poker Tour broadcast and a friendly face at the upcoming Season X events.

"I'm thrilled to be given such an incredible opportunity," said Marianela Pereyra. "It's an honor to be filling in for Kimberly Lansing and I'm really looking forward to being a part of the World Poker Tour."

Following the televised WPT Venice event, Marianela will be travelling to the world-renowned Los Angeles Poker Classic running February 24 - 29, 2012 at the Commerce Casino. As one of poker's biggest events, the LAPC attracts a large field of top international professionals. View the 2012 WPT Season X schedule at www.WPT.com and find out where Marianela and the rest of the WPT will be heading.

About World Poker Tour
World Poker Tour (WPT) is the premier name in internationally televised gaming and entertainment with brand presence in land-based tournaments, television, online and mobile. Leading innovation in the sport of poker since 2002, WPT ignited the global poker boom with the creation of a unique television show based on a series of high stakes poker tournaments. WPT has broadcast globally in over 150 countries and territories and is currently airing the ninth season on FSN in the United States. Season X of WPT is sponsored by ClubWPT.com, a unique online membership site which offers inside access to the WPT as well as a sweepstakes-based poker club and is available in 35 states across the U.S. WPT participates in strategic brand license, partnership and sponsorship opportunities. WPT Enterprises Inc. is a subsidiary of bwin.party digital entertainment plc., the owner of Tags: Marianela Pereyra, WPT, Season X, Kimberly Lansing.