2008 DAILY ONLINE POKER NEWS
March Casino Poker News:

March 30, 2008. 30 Day Poker Festival in April And The Elevator System At 32Red Poker. 32Red Poker has announced a whole month of poker promotions this April worth over $19,000 in additional prizes. The poker team will keep the players out of the dreary April showers and happy at their poker tables by loading 30 full days with freerolls, tournament specials, enhanced bonuses and more. So much so that we're confident..

March 29, 2008. 20% Reload Bonus Up To $150 At Absolute Poker Today.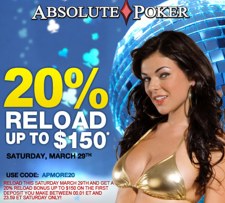 Claim 20% Reload Up To $150 free today, Saturday, March 29th. Use Code APMORE20 on the first deposit you make between 00.01 ET and 23.59 ET Saturday ONLY! Download Absolute Poker software, register and play.

March 24, 2008. Titan Poker Room Will Celebrate April Fool's Day By Awarding Its Players With $5,000 In Guaranteed Prizes. Titan Poker, the largest online poker room on the iPoker Network, will stage a $5,000 Guaranteed Prize tournament in celebration of April Fool's Day. The first day of April, traditionally celebrated with hoaxes and practical jokes, will be honoured by Titan Poker with a $5,000 Guaranteed Tournament for its players. The April..

March 21, 2008. Titan Poker Is Sending 2 Of Its Finest Players To The World Poker Showdown (WPS) Ocean World In The Dominican Republic This May. Cory Tymich from Canada and Damien de Gaye of France will represent Titan Poker, the largest online poker room on the iPoker Network, this May at the World Poker Showdown (WPS) Ocean World tournament in the Dominican Republic. Both players have been awarded a $9,000 Prize package to the WPS Ocean World in the Dominican Republic..

March 9, 2008. Titan Poker Staged Its Biggest Tournament Ever With An Unprecedented $2,000,000 Guaranteed Prize Pool. Titan Poker, the largest online poker room on the iPoker Network, staged its biggest ever guaranteed prize tournament this March with an unprecedented $2 Million dollar prize pool. Nearly 1,400 players from across the globe competed on March 2, 2008, for 14 and a half hours in this thrilling online tournament. Participating..


Previous Monthly Poker News:
Feb '08 Jan '08 Dec '07 Nov '07 Oct '07 Sep '07 Aug '07

All Online Poker News & Articles