2008 DAILY ONLINE POKER NEWS
July Casino Poker News:

July 25, 2008. $212,939 Bad Beat Jackpot Winner And New Welcome Bonus At Absolute Poker. After Absolute Poker recently broke the world record for a Bad Beat jackpot with a staggering $996,115.28, the team Absolute is now congratulating another BIG winner. Player WHACKER took home $212,939.61 on July 13th, 2008. Absolute Poker's jackpot grows faster than any other poker jackpot online - make sure you don't miss out on..

July 19, 2008. Bounty Tournament At Doyles Room - More Value, Bonus Money, And Fun This Wednesday Night At 9:30pm ET. If you thought The Bounty at Doyles Room couldn't get any better, you're wrong! The Bounty is the best deal in online poker where for a $27.50 buy-in, you get the chance to take on bounties, the Legend, Doyle Brunson, "The Mad Genius of Poker", Mike Caro, WPT champ and 2-time WSOP bracelet winner Hoyt Corkins and DoylesRoom's weekly..

July 18, 2008. Summer Playtime Promotion At PlayboyGaming - Great Bonuses, Prizes And Playmate Videos And More.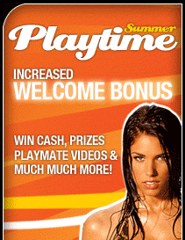 Come July, PlayboyGaming Poker will offer all new players a sign up bonus of $200/£100, giving all new online poker players a chance to sit back enjoy the sun, soak up the rays and play with an extra bundle of cash. If you think $200/£100 is a good deal, The room is offering all existing players a match deposit bonus of $400/£200 in July. Now that's a scorcher!! PlayboyGaming also welcomes all Casino players this summer with a 20% cash back on any possible losses up to £/$20 cash.

July 15, 2008. Every Week New Players At Titan Poker Are Given A Chance To Win A Choice Of 5 Top Digital Prizes Or $2,000 In Cash. Titan Poker, the most popular poker room on the iPoker Network, has improved its generous range of prizes for its new online players. All first-time depositors are automatically awarded with free entry into one of Titan Poker's New Depositors Freeroll tournaments - which are staged five nights a week. Winning players were previously..

July 9, 2008. Asia Pacific Poker Tour Satellites At Doyles Room - Win $9,000 APPT Package. Can you tame the dragon? Play your cards right and you could find yourself seated at the main event in Macau, China when the Asia Pacific Poker Tour (APPT) ushers in its second season on September 1st this year. Doyles Room offers a series of super-Satellites where players can win $9,000 APPT MACAU Packages. Satellite your way to..

July 7, 2008. New 5 Level Absolute Poker Players Loyalty Program - FAME. Absolute Poker team believes all their customers are VIPs. That's why they are rolling out the red carpet with an A-list loyalty program that rewards each and every single player. FAME is a chance for player to step into the spotlight and enjoy the perks, benefits, bonuses, freerolls, and rewards that he/she deserve. Every real..

July 3, 2008. Absolute Euro Showdown And Freerolls For Players At Absolute Poker This Summer. It's bigger, it's better, it's BACK! The Absolute Euro Showdown poker tournament returns. With bigger prize pools and more countries, this years' event is one you don't want to miss. Want more? Here you go... IT'S ALL FREE! You have the chance to play for your country in the Absolute Euro Showdown Final, but first you need to..

July 2, 2008. The $45K DIAMOND DEAL Promotion At Absolute Poker Room. To celebrate the launch of the new loyalty program FAME, Absolute Poker is giving away diamonds worth $45,000 throughout July and August. Unlike the diamonds, this bling-tastic deal won't last forever. ROCK SOLID With the dollar in decline and credit on the crunch, Absolute Poker invites you to win some rock solid carbon-based..


Previous Monthly Poker News:
Jun '08 May '08 Apr '08 Mar '08 Feb '08 Jan '08 Dec '07

All Online Poker News & Articles