September 26, 2008.
Party Poker Presents New Lobby And Website, And Wins eGaming's 'Socially Responsible Operator of the Year' Award.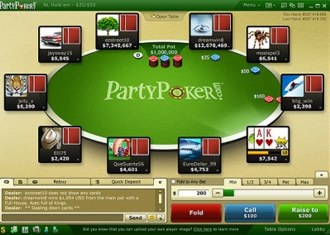 The all new PartyPoker software and new look of the website is coming soon. After the sneak preview of the table last week, information about the revamped Party Poker lobby is now available for players. You can download a new poker software right now and find many of the new features will make playing on more than one table at a time so much easier:
You can now open multiple tables from the lobby by holding down the control key while you select your preferred tables.
You can now open tables like the one you are already playing on, simply by hitting the Open New button on the table itself.
There are some great customisable Hot Hands alerts, so that when you are multi-tabling, you can be alerted when you are dealt a huge hand or when, for example, there is some big betting action going on at a particular table. You'll be able to use preferences to turn these on and off as you see fit.
Tables can be re-sized (not Omaha yet, though, that is still being developed), and you can select cascading, tiled etc from the tables, so you don't have to dive back into the lobby.
To celebrate the introduction of the new product, Party Poker is pleased to announce that there will be an exclusive freeroll for all new members of its mailing list who are already real money players. If you don't already have an account, don't worry! Join now and send an email. It's a simple process to sign up and receive a great new 100% up to $500 sign-up bonus. Click here to be eliginble for the bonus and download new Party Poker software.

The tournament will take place on Saturday 18th October at 14:45 ET (19:45 BST, 20:45 CET). To register all you have to do is e-mail your name and your Party Poker real money account name to warrenl@partygaming.com (your account name, not your screen name, case sensitive).

The freeroll prize pool is currently $10,000 and the payout structures will be standard based on regular multi table tournament payouts. Early registration is encouraged. The 18th October may be a little way away but you will receive an e-mail to remind you to take part and that you are registered. Note: This tournament is not open to players from the United States.

PartyGaming Wins eGaming Award for "Operator of the Year"
PartyGaming has been named 'Operator of the Year' for the second time in 3 years at the annual 2008 eGaming Awards for the online gaming industry. In addition to winning the top award, PartyGaming also took the coveted accolade of 'Socially Responsible Operator of the Year' in recognition of the Company's efforts to provide a safe and secure online gaming environment for all of its players in poker room, casino, bingo and betting sites of the operator.

The independent judging panel awards 'Operator of the Year' to the 'operator which has set the standards for others to follow' and which has 'clearly differentiated itself from the chasing pack and successfully developed the broadest and most geographically diverse product range'.

'Socially Responsible Operator of the Year' is awarded to the gaming operator that goes the extra mile in implementing procedures and safeguards for its consumers. The judges looked at a wide range of measures, including age verification, availability of problem gambling assistance, responsible gaming safeguards and comprehensive know your customer procedures. The award also recognises PartyGaming's efforts to campaign for socially responsible gaming online.

Jake Pollard, editor of eGaming Review, said: "PartyGaming is a worthy winner of both the Operator of the Year and Socially Responsible Operator of the Year awards. The company deserves credit for its continued leadership of the industry and especially its commitment to a socially responsible approach to gaming, which is also being recognised separately today with its shares becoming a constituent of the FTSE4Good Index Series for companies that meet globally recognised corporate responsibility standards."

Accepting the Operator of Year award for PartyGaming, John O'Malia, Managing Director of PartyGaming, said: "We are delighted to win both of these awards. We love to win but the awards are not just about the winners: they celebrate the achievements of finalists, first stage entries and many others in the industry. Our awards are an endorsement from across the industry for our endeavours to provide great entertainment. Acting responsibility is one of the four main pillars of our business strategy, because we want all of our customers to play on our sites for the right reason – to enjoy great entertainment and play within their means."

Source: Party Poker


Related Poker Articles:
1. World Poker Tour And U.S. Playing Card Chosen Sports/Special.. (28/06/2005)
2. Invitation To $10,000 Celebration Freeroll Tournament At Party.. (19/09/2008)
3. US Player Yevgeniy Timoshenko Wins Historic APT Macau In Chine.. (02/09/2008)
4. $1 Million Guaranteed Tournament At Party Poker On Saturday -.. (26/05/2008)
5. Play Weekly 300k Guaranteed Sunday Tournament With $215 Buy-In.. (31/05/2007)
6. World Series Of Poker 2007: Play PartyPoker's Super Satellites.. (09/04/2007)

Online Poker News >>> September 2008 Poker News

All Party Poker Room's News



Tournaments | Texas Hold'em Strategy | Hold'em Lessons |