2008 DAILY ONLINE POKER NEWS
August Casino Poker News:

August 29, 2008. French And Italian Players Can Win A Sony Laptop In Titan Poker's Exclusive Laptop Freeroll Promotion. Titan Poker, the largest online poker room on the iPoker Network, has just launched an exciting and unique poker tournament series exclusively for its French and Italian players. The room will award a skilled online poker player with a new Sony laptop in its Exclusive Laptop Freeroll promotion this August. Starting on August 21st..

August 19, 2008. When To Call And When To Bet - Finally, Some Powerful Answers From Poker Genius Mike Caro. One more article from "mad genius" Mike Caro on Texas Hold'em poker strategy and the element of bluff. Mike explains when you should Call And when to Bet. "Somebody's got to keep him honest," Tom said, calling the bet. The next player to act raised. The original bettor reraised. And poor Tom folded. "Betting is more a matter of..

August 18, 2008. Spanish Brothers Antonio And Bruno Naves Will Set All Brotherly Bonds Aside This August At The Asian Poker Tour In Macau. Titan Poker, the largest online poker room on the iPoker Network, is sending 2 talented brothers to China this August for the second stop on the 2008 Asian Poker Tour in Macau (APT Macau). Antonio Naves, 31, and his younger brother Bruno, 25, from Spain, have been playing poker for four years and signed up for the action at Titan..

August 17, 2008. 25% Reload Bonus Up To $250 At Doyles Room This August.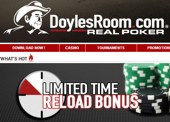 While the world goes for the gold in Beijing, you can go for the green at Doyles Room. If you make a deposit this Saturday, Sunday and Monday and you'll receive a 25% reload bonus worth up to $250. Deposits at Doyles Room are fast and easy with your credit card or person to person transfer. Note: To claim your reload bonus, you must follow the link below AND use promotion code: GO4GREEN25 when making your deposit. As soon as you earn the required Loyalty Points, you'll be credited the entire cash amount directly to your DoylesRoom's account. Celebrate the Olympic season with 25% more summer fun at DoylesRoom.

August 16, 2008. Reimer Koester From Germany Is celebrating $27,500 Win At Titan Poker's $250,000 Guaranteed Prize Tournament. Just four days after joining the popular online poker room, Reimer Koester, a talented poker player from Germany, claimed second place and $27,500 in cash at the $250,000 Guaranteed Prize poker tournament on Sunday the 3rd of August. The skilled player had signed up at Titan Poker, the largest poker room on the iPoker Network, just..

August 14, 2008. IPod Nano For Every New Player Plus $500 Cash At InterPoker This August.

Every new InterPoker player who signs up between 1st August and 31st August 2008 will receive a FREE 4GB Ipod Nano AND the sign up bonus of up to $500/£250. All they need to do is deposit the required amount and earn 1500 MPP's and InterPoker will send them this fantastic gadget. These Ipods are hot property and in high demand, whether the poker players want to keep it for their own use or give it to a loved one, they can't go wrong!

August 14, 2008. Who Is The King Of Poker? $7 Million Up For Grabs At Commerce Casino During California State Poker Championship. Annual California State Poker Championship draws the best in the West. The 2008 edition of the Cal State Championship will again be a hotbed of No Limit and Limit Hold'em poker tournaments commencing on Tuesday, September 2, at Commerce Casino in Los Angeles. This year's 18 events, with buy-ins ranging from $120 to $1,580, will..

August 10, 2008. 32Red Poker Olympics - Win Your Share Of Prizes In Four Exclusive Events. Don't miss out on competing in the 32Red Poker Olympics, with $20,000 in free chips up for grabs throughout the promotion. The 32Red Poker Olympics is a great new promotion running between the 8th and 24th August with $20,000 prize pool on offer across the 17 days and consisting of 4 fantastic events to suit every kind of poker..

August 7, 2008. New 200% Sign-Up Bonus Up To $500 At Absolute Poker Room.

Absolute Poker is maximizing the thrills by awarding all new players with a limited time 200% First Time Deposit BONUS up to $500 free. Triple your initial bankroll! With this new welcome poker bonus, online players at all skill levels can have more funds available to join in any of AP's real money poker games or their famous tournaments. The Bonus Amount will automatically be added to your Bonus Dollars account where it will be held and automatically released to your cash account as you earn CREDITS playing real money games. To claim your bonus:
• Download Absolute Poker software.
• Enter the CASHIER and click Deposit.
• Enter Poker Deposit Code AP500
• Buy chips and receive the 200% bonus up to $500.

August 6, 2008. SunPoker Now Offers Moneybookers For Players; Get Extra $50 Bonus On Sign-Up. SunPoker now have Moneybookers as a deposit and withdrawal option. This will help immensely with new joins especially from Europe as many players have been waiting for Sunpoker to get Moneybookers as a payment option. The poker room also offer extra $50 bonus for Moneybookers depositors in addition to the regular sign-up bonus up to..

August 3, 2008. Titan Poker's Top Players Are Choosing From 4 Different British Venues To Play In The UK's Largest Poker Tour. Titan Poker, the largest online poker room on the iPoker Network, is giving its players the chance to choose from one of four major poker events on the route of the Grosvenor UK Poker Tour (GUKPT). The GUKPT will pass through various Grosvenor casino locations in the UK, including Luton, Bolton, Thanet and Blackpool - and Titan..


Previous Monthly Poker News:
Jul '08 Jun '08 May '08 Apr '08 Mar '08 Feb '08 Jan '08

All Online Poker News & Articles