March 1, 2010.
The Gladiator's Challenge - Win $12.5K 2010 WSOP Seat At Party Poker.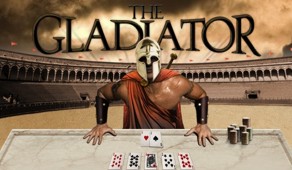 Accept The Gladiator's Challenge - Win 2010 WSOP Seat
The Gladiator is back at Party Poker, and this time it's bigger and better than ever before. Step into the arena for 30 days of exciting poker action from 3rd March to 1st April to win cash prizes, WSOP packages and freeroll entries in the huge promotion at Party Poker.
Hit the minimum daily target of 10 points for just 5 days and you'll claim a much-deserved entry into a $10,000 freeroll. The more days you earn points on, the bigger your prize will be so don't rest on your laurels: there's up to $7,500 in cash to be won.
Finally, a massive incentive for the most dedicated players was added. Earn 2,000 points every day for the full 30 days and you'll win an exclusive $12,500 WSOP(R) main event package which includes the $10,000 main event buy-in, hotel and hospitality and $1,000 spending money.
Number of days target hit
Points to be earned each day
10
20
50
100
200
400
1,000
1,500
2,000
5
$10k FR
$15k FR
$25k FR
$25
$55
$125
$350
$600
$950
10
$15k FR
$25k FR
$25
$60
$140
$300
$800
$1,400
$2,000
15
$25k FR
$15
$50
$120
$250
$550
$1,400
$2,250
$3,000
20
$15
$35
$90
$190
$400
$850
$2,200
$3,500
$5,000
25
$20
$45
$120
$250
$500
$1,100
$3,000
$5,000
$7,500
30
-
-
-
-
-
-
-
-
$12,500
WSOP(R) package
You don't even have to earn points on consecutive days to be in with a shot at the colossal prizes: the room will just count up the number of days where you made the targets during the promotion.
For example, if you earn 10 points every day for 10 days, take 5 days off and then earn 10 points on 10 more days of the promo, you'll get the prize for earning 10 points on 20 days.
Keep tabs on how many points you've picked up so far in The Gladiator by checking your account. Only the bravest players will be rewarded so opt in from 3rd March and rise to the challenge of The Gladiator.
All values mentioned in this promotion are in US dollars unless otherwise stated.
Only points earned at Party Poker tables are valid for this promotion.
In cases where players have earned different point amounts over various days, Party Poker will always award the highest cash prize based on total number of points earned.
Winners of the $12,500 WSOP(R) Package will be offered a cash alternative of $10,000.
The $12,500 WSOP(R) Package includes: (1) WSOP 2010 main event buy-in worth $10,000, (2) Hotel and hospitality and (3) $1,000 spending money.
Winners of the $12,500 WSOP Main Event package will be responsible for arranging and paying for their transportation to the event, travel insurance and other incidental expenses.
Winners of the $12,500 WSOP(R) Main Event package buy-in must agree to wear branded Party Poker clothing when playing in the tournament.
Gladiator freerolls will take place at 14:30 ET on Saturday, 3rd April, with registration starting at 00:00 ET on Friday, 2nd April.
The number of players who can enter each freeroll will be capped at 10,000.
"World Series of Poker"(R) and "WSOP"(R) are registered trade marks of Harrah's License Company LLC. No license, affiliation, sponsorship or endorsement is claimed, or should be inferred from the use of these trademarks here. PartyPoker & CPR are not licensed by or otherwise affiliated with Harrah's License Company LLC or the World Series of Poker(R) in any way.


Related Poker Articles:
1. Commerce Casino Scores Largest Land-Based Non-WSOP Poker.. (20/09/2009)
2. New Poker Players At Popular Poker Room Titan Poker Vie For.. (20/06/2009)
3. $1,000,000 Tournament Leaderboards, WSOP 2009 Seats And More.. (07/06/2009)
4. Win Your WSOP 2009 Package In STEP And Satellite Tournaments.. (29/05/2009)
5. Doyles Room's Rake Sprint To Vegas Begins In Mid May. Win WSOP.. (18/05/2009)
6. ECOOP IV, EPT San Remo And More Ongoing Promotions At Titan.. (05/04/2009)

Online Poker News >>> March 2010 Poker News

All Party Poker Room's News



Tournaments | Texas Hold'em Strategy | Hold'em Lessons | Biggest online jackpots